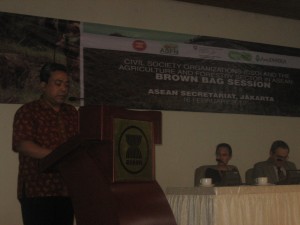 Mr. Mohammad Nuruddin, Secretary General of API and active ExeCom member of AFA, gives an opening message during the ASEAN Session on "Civil Society Organization (CSO) and the Agriculture and Forestry Sector in the ASEAN Region, held at the ASEAN Headquaters in Jakarta, Indonesia last February 16, 2012. The activity was attended by Dr. Surin Pitsuwan, ASEAN Secretary General and other key ASEAN staff and Dialogue partners and CSOs. The objective of the session was to encourage building enabling environment for meaningful engagement between ASEAN & civil society organizations in agriculture and forestry sector development. AFA and its partner AsiaDHRRA also presented their experience in relating with ASEAN in the panel discussion.
In his message, Mr. Nuruddin said, "I hope that through this CSO 101 session, the small spaces for participation at the member state level and at the ASEAN level can be widened to hear more loudly the grassroots voices  of small-scale women and men farmers, fishers, indigenous peoples and other marginalized sectors."
"We hope that through this "getting- to-know you" session, we can find more allies and friends from the ASEAN member state representatives and staff who will recognize and appreciate our role in building a more food secure, healthy, happy and caring ASEAN community," he added.
Click here to download Mr. Nuruddin's Opening Message
Click here to download AFA -AsiaDHRRA's Powerpoint Presentation