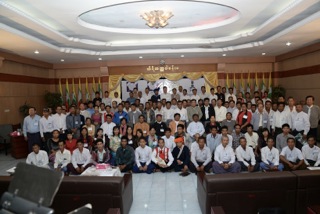 (c) Esther Penunia/AFA
July 24, 2016. Yangon Myanmar . The Agriculture and Farmers Federation of Myanmar (AFFM) in partnership with its mother trade union Confederation of Trade Unions Myanmar (CTUM) and its regional farmer organization Asian Farmers Association (AFA), organized a two day national farmers forum last July 23-24, 2016 in Yangon, Myanmar. The forum brought together 150 participants from farmer leaders in all regions and states of Myanmar, partner civil society organization, and several National Parliament members and local government officials.
The forum was the largest gathering of farmers, Parliament members and partner groups since AFFM was established in 2011.
The theme of the Forum was " From Sustainable Agriculture Development to Sustainable Economic Development".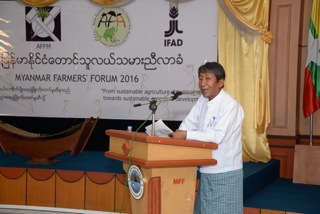 (c) Esther Penunia/AFA
In his opening remarks, AFFM president U Than Swe asked the Myanmar government to recognize farmers as workers and thus support them as well. " Myanmar is an agricultural country, so agricultural development will mean development of the country as well. According to our laws, our unions are based on family -run farming industry. So we are employers, and workers. Since we can be seen as an employer, a worker or a laborer, the government has responsibility to support us financially and also to promote our rights. However, we have not yet received any concrete support from the government. Today's farmers should be under the protection of the law. "
U Than Swe encouraged the four parliament members in the forum to listen and understand the farmers. At the end of the forum , AFFM submitted to the parliament members Farmers' Statements on (1) Recommendations to the existing land and forestry laws ; (2) agriculture marketing, trading and economics and (3) social security, social protection, occupational safety and health. The statements were based on the inputs of the participants during the Forum.
The national farmers' forum aimed to discuss the advantages and disadvantages of current laws and policies that affect family farmers, to present the situation and challenges the farmers face across the different regions and states in the country, and to present some alternatives or responses to the challenges at hand. Topics discussed included farm land laws, community forestry and forestry laws, occupational safety and health, social security and social protection for agricultural sector, agricultural economics , marketing and trade, situation of women and youth in the agricultural sector.
AFA Secretary General Esther Penunia made a presentation on "Marketing Imperative of Farmers : Farmers ' Multi-purpose Cooperatives as Vehicles for Strengthening Market Engagement. "
The forum was financially supported by the MTCP2 AFOSP project, with EU, IFAD and SDC as project donor partners.