Published September 12th, 2012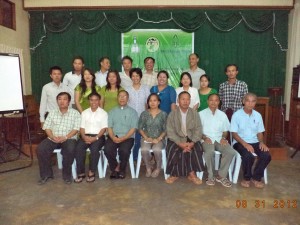 While demand for organic vegetables has been increasing in Myanmar, farmers are worried about the possible impact of foreign and private investors who are or will be engaging in large-scale vegetable farming using chemical and synthetic fertilizers, as these might contaminate nearby organic vegetable farms.
Farmers raised this concern during the "National Consultation Workshop on Organic Vegetable Industry" held last August 31, 2012 at the Catholic Bishop Conference of Myanmar in Yangon, Myanmar. The consultation was organized by the Asian Farmers' Association for Sustainable Rural Development (AFA) in partnership with the Episcopal Commission for Education of the Catholic Bishops' Conference of Myanmar and MyanDHRRA.
Around 29 participants from different stakeholders groups of the organic vegetable industry in Myanmar — such as organic farmer producers, marketers and support organizations, including representatives from NGOs and government agencies — attended the event.
(more…)