The organic industry holds a huge potential for small women and men farmers in Asia. In order to understand the situation of the industry and see how farmers can benefit, AFA has been conducting industry consultations together with its member FOs in different Asian countries.
Organic vegetable in Vietnam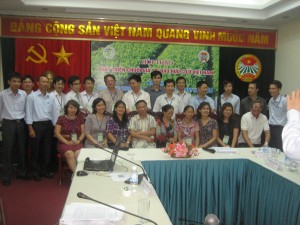 In Vietnam, the Vietnam Farmers Union (VNFU) is the local partner anchoring the study of the organic vegetable industry. Policy Advocacy Officer Lany Rebagay helped plan and conduct a national consultation last June 8, 2012 in Hanoi, Vietnam. The multi-stakeholder consultation was attended by small-scale organic vegetable farmers/producers, government representatives, local corporations, consolidators, NGOs, academe and media.
The consultation resulted in the following recommendations for each set of stakeholders:
a. For government:
• Law on Organic agriculture
• Increase budget and support for organic farming for small-scale farmers for the following:
o Certification policy (official recognition of PGS)
o Credit
o Irrigation
o Processing facilities (storage, refrigeration, etc.)
o Extension services
b. For Consolidators/Traders:
• Communicate market standard to farmers so that farmers can adjust their production based on the standards
• Mutually beneficial contract (fair benefit and risk sharing)
• Organize Organic Trade Fair / festivals
• Tour of consumers to organic
c. Academe/ Research Institutes:
• Documentation of good practices
• Research and documentation on sustainable technologies and models for organic vegetable
d. NGOs/ Farmers Union:
• Capacity building on sustainable farming technologies
• Technical assistance in the certification process
• Link farmers to consolidators /input supplier
• Assist farmers in making policy papers
e. Small-scale organic vegetable farmers:
• Organize into commodity cluster
• Adopt organic farming approach
• Engage government /Advocate for policies
Organic potato in Mongolia
In Mongolia, the Adventist Development and Relief Agency (ADRA) is the local partner anchoring the study of the potato industry. Ms. Lany Rebagay, Policy Advocacy Officer helped plan the potato industry consultation in coordination with ADRA Program Manager Gerry Ganaba. Marketing Officer Vicky Serrato attended the national consultation last June 5 in Selenge Aimag, Mongolia. The multi-stakeholder consultation was attended by around 80 participants, including farmers in Selenge province and Dzavhan, representatives from seed producer groups, SMEs engaged in supply chain development and processing of potato, academe and ADRA operations staff.
Potato is one of the major agriculture produce in Mongolia. Based on the data presented, the per capita consumption per year ranges from 5l – 73.8 kg, 86kg per capita consumption in urban areas (exceeds normal consumption) and is increasing continuously. This situation creates higher demand for potato to supply the domestic demand. The data in 2004-2009 show that production of potato increased by 4 times. Through the government's "Mongolia Potato Programme," Mongolia targets to supply 100% of domestic demand by 2015.
Through the consultation, the participants were able to understand the industry situation, see the opportunities in the industry as well as the challenges faced by farmers specifically the limited time to grow potato. Participants were also able to discuss challenges such as the availability of quality seeds suitable to different climatic condition and storage especially during winter season so that supply can be sustained until the next harvest season and seeds can be preserved for the next cropping cycle.
Some of the stakeholders engaged in potato industry are:
– Mongolia Farmers Association for Rural Development (MFARD) produces seeds and distributes them to soums for mass production of seeds; MFARD buys the seeds produced in each soums= and redistributes them to individual members
– Adventist for Development and Relief Agency (ADRA) workson community/farmers organizing, capacity building on organizational management and enterprise development
– The Academe does research and development
– Government (Ministry of Agriculture) provides financing support and information
– Banks give financing support
Some of the recommendations during the workshop were:
– Government
o Examine and ensure quality seed for distribution or sale to the farmers. There's a big difference in productivity when good/certified seeds are used (yield range of 25-35 tons per hectare for certified seeds and yields range of 10-12 tons per year for non-certified seeds). Certified seeds can still be used to plant until the fourth year, thus farmers can collect and preserve seeds that can be used for four years.
o Government to provide financing support for the acquisition of production and post-harvest facilities such mini-tractor, storage facility, etc.
o Local government to provide SME Loan program support to farmers
o Land regulation
– NGOs like ADRA, Mongolia Farmers Association for Rural Development
o Develop good link between the producers and consumers e.g. linking small scale farmers to support organizations such as marketing, technical, etc
o Mongolia Farmers Association – to help develop seeds that are adaptable to the highlands where temperature is low
– Farmers Organization
o Sharing of experiences as a strategy to inform other farmers of their experiences and initiatives on the ground e.g. technology, farm practices, market information, etc.
o Lobby to simplify bank requirements to ease farmers access to credit
o Consolidate farmers' produce to save cost of transportation when marketing products
Regionally coordinated, nationally implemented industry analysis
The industry analysis is an AFA regionally coordinated and nationally implemented activity.
AFA has completed seven workshops for the organic rice in Philippines, Indonesia, Cambodia, Nepal, Thailand, Bangladesh and Vietnam (organic vegetable).
A regional paper on the industry analysis will be produced soon.