Category Archives: Country: Bangladesh
Farmer organizations in Bangladesh are participating in the capacity building activities of the UN's Food and Agriculture Organization (FAO) under the Technical Assistance (TA) component of the Global Agriculture and Food Security Program (GAFSP) project of Bangladesh.
Md. Mahmud Hossain, National Team Leader of IAPP-TA in Bangladesh said that the Integrated Agricultural Productivity Project (IAPP) already has two farmer representative members in the Project Steering Committee from two regions of the project area and they attend the meetings regularly.
"We included them in our capacity building initiative so they can participate more efficiently in the PSC meeting," Hossain emphasized.
According to Hossain, the farmer representatives who sit in the steering committee of IAPP are: (1) Md. Wahedul Islam, President, Ghonirampur Livelihood Field School in Manirampur, Taraganj, Rangpur; and, (2) Md. Fazlul Haq, President, Munda Pasha Livelihood Field School in Munda Pasha, Uzirpur, Barisal
Click here for more information about the GAFSP Asian CSO representative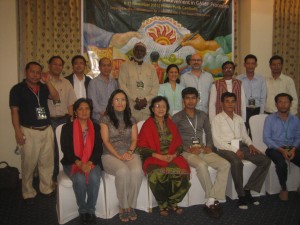 With support from Agricord, through AsiaDHRRA and CSA, AFA hosted a knowledge session focused on drawing out key lessons on farmers' engagement in  the Global Agriculture and Food Security Program (GAFSP), particularly through the project entitled "Supporting Inclusive Planning of country projects financed by the GAFSP" last November 8-10, 2012 in Phnom Penh, Cambodia. The learning session was participated by FOs and NGOs from four countries, namely, Mongolia, Nepal, Bangladesh and Cambodia.  It was also an opportunity for South-South learning exchange with the participation of Mamadou Cissokho, a key leader of ROPPA, a strong regional farmer federation from Senegal.
Results of the activity will feed into efforts at strengthening FO involvement in government agri policies and programs as well as in future project proposals that may be developed to support FO involvement in policy making processes for GAFSP.
One of the major lessons learned was the primacy of a strong farmers' organization with capacity to constructively engage government and other stakeholders as key to the success of any food security program like GAFSP.