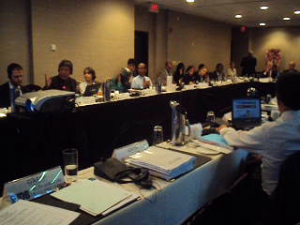 The Steering Committee of the Global Agriculture and Food Security Program (GAFSP), held its fifth meeting last May 22-23 in Washington, DC. Present during the meeting were the three CSO representatives: Ms. Ruchi Tripathi from Action Aid UK representing Northern CSOs; Mr. Djibo Bagna from ROPPA representing African CSOs, with Mamadou Goita, also from ROPPA, as advisor; and Mr. Raul Socrates Banzuela from AFA representing Asian CSOs with Mr. Sopheap Pan from AFA member Farmer and Nature Net (Cambodia) as advisor.
In this meeting, the GAFSP Steering Committee allocated $177 million grant funds to 6 countries: five countries in Africa (Burundi, Gambia, Malawi, Senegal and Tanzania) and 1 country in Asia ( Krygz Republic). The Krygz Republic was awared $16.5 M for its project on "Rehabilitation of Irrigation and Drainage Systems managed by Water Users Associations". This brings to six the number of GAFSP recipient countries in Asia (with Bangladesh, Mongolia, Cambodia, Nepal, Tajikistan) and 12 in Africa.
During the meeting, AFA presented a narrative report and a 5-minute video presentation of its work the past year. AFA provides technical, administrative and logistical support to the CSO Asia representative to facilitate (1) consultation among constituency CSOs, (2) disemmination of information to constituency CSOs, and (3) dialogue between representatives and other members of the GAFSP Steering Committee (please see link below for the afa narrative and video report).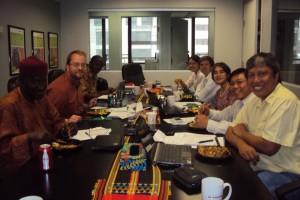 The CSO representatives to the GAFSP SC worked together in making interventions in each of the proposal for the public sector window, raising concerns around CSO participation, sustainability of agricultural approaches to be used, land tenure and resettlement, and women's rights .
Also, they raised arguments in favor of a more significant involvement of CSOs in the decision making processes of the private sector window of GAFSP, which is currently managed by the International Financing Corporation, with the view that smallholders, and their associations and cooperatives, are part of the private sector too.
AFA will conduct a mission to Krygz Republic in the coming months to consult CSOs about the recent decision of GAFSP.
The GAFSP is a multilateral mechanism to assist in the implementation of pledges made by the G20 in Pittsburg in September 2009. The objective is to address the underfunding of country and regional agriculture and food security strategic investment plans already being developed by countries in consultation with donors and other stakeholders at the country level.
Click here for the AFA report
Click here for the AFA video presentation
Click here for the GAFSP website