AFA holds learning exchange visit in Cambodia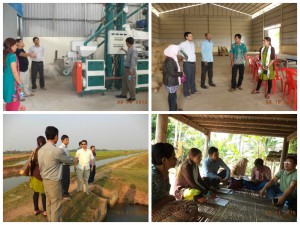 The Asian Farmers' Association for Sustainable Rural Development (AFA), in cooperation with Farmer and Nature Net (FNN), held a member-to-member cooperation and learning exchange visit last March 9-13, 2015 in Cambodia.
The visit was one of the activities under the project entitled "Advocacy for Increased Government Support for Sustainable Agriculture and Farmer-led Enterprises" funded by Agriterra.
Participants included Sidig Pamungkas, Manager of the Organic Rice Enterprise of APOLI (a local member organization of Aliansi Petani Indonesia or API in Central Java); Hasthanari Pamintasih, Finance staff of API and support staff/translator to farmer leaders' representative; Sushma Neuphane, Youth woman entrepreneur and youth woman leader of National Land Rights Forum (NLRF); Jagat Deuja, Executive Director of Community Self-Reliance Center (CSRC); and, Victoria Serrato, Enterprise development and Marketing Officer of AFA.
The objective of the visit was for participants to learn different models, innovations and initiatives of members and their partners in aspects of organizational and enterprise management, commodity-specific industry, sustainable agriculture and market access as well as the model of members in delivering services to members.
Specifically, it aimed at sharing and learning from exchanges among participating organizations on good practices and innovations in managing and sustaining local enterprises; capturing lessons learned from exchanges and identifying opportunities for future collaboration; and, improving enterprise models and strategies based on learnings and insights during field visits.
The participants visited the organic rice enterprise of FNN and CEDAC where they learned about how farmers benefit from having an assured market with premium price for their organic rice.
They also went to an agricultural cooperative in Sithor Kandal district where they saw how the district level association implements several enterprises on savings and credit, construction of latrine, water filter system and rice milling enterprise.
Another visit was made to the Farmer and Water Net (FWN) federation of rice farmers at the district level, which manages an irrigation system and collectively sells rice to consumers.
Lastly, the participants also visited an organic vegetable producers' group which sells its produce to the FNN-CEDAC organic enterprise.
The participants analyzed the lessons learned from these cases and created action plans to implement them in their own organizations in their respective countries.
---
---