AFA joins PAKISAMA and FAO-Bangladesh in hosting farmer-to-farmer study tour in Philippines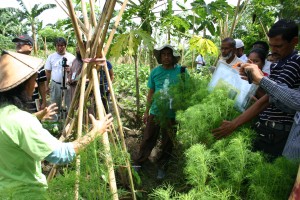 "I learned the importance of business planning, youth formation, and good relationships with the local government. I will develop a business plan for marketing for our primary alliance. I will also request our central leaders to develop a network among youth. I will also develop a plan to improve our organization's communication and relations with the local government and to resolve problems in our organization." (Marjina, Treasurer, Mithaganj Krishak Moitree)
"I have learned a lot about how the local farmer organizations in the Philippines utilized their local resources. I will share my learnings with my association in Bangladesh. We will organize more farmers marketing groups." (Md. Bablur Rashid, President, Bangladesh Farmers Marketing Group Association)
These were some of the insights and learnings shared by farmers participating in the "Bangladesh-Philippines Farmer Leaders Exchange on Building Strong Farmers' Organizations in Bangladesh: A Study Tour to the Philippines," conducted last June 1-7, 2013 in the Philippines. The planning and implementation processes of the study tour was a  tripartite partnership between  (1)  PAKISAMA, a national confederation of peasant movement in the Philippines;  (2)  FAO Bangladesh led by Md. Mahmud Hossain, National Team Leader of the Technical Assistance Component of the Integrated Agriculture Productivity Project ( IAPP-TA), and Md. Hemayet Uddin, Deputy Project Director of the IAPP, a project of the government of Bangladesh  being funded by the Global Agriculture Food Security Program (GAFSP);  and  (3) AFA, which is the support organization for the CSO-Asia representative in GAFSP.
Twelve farmer-leaders, four of them women, from various federated groups (at national and province levels) were selected by the FAO Bangladesh team to participate in this study tour. They represented farmers groups who have exhibited a certain development and maturity in organizational processes. They came to learn about PAKISAMA's   processes, initiatives, challenges and successes in federation building and in engaging the government for pro-farmer policies and programs, with the hope that they can gather insights and lessons which will help them strengthen their organizations back home.
The farmers, together with five members of the FAO facilitation team, conducted a three-day field visit to the following sites: (1) MESAFED, a provincial federation affiliate of PAKISAMA in Oriental Mindoro, which has projects on IDOFS (integrated, diversified, organic farming systems), commodity cluster organizing, production of bio-compost fertilizer and eco-tourism; and (2) SIDC, a multi-awarded agricultural cooperative in Batangas City with 7,852 regular and 9,583 associate members. They held a brief visit to the Federation of Free Farmers (FFF), the oldest national organization in the Philippines. The participants had a one day discussion on PAKISAMA's s organizational processes, which included a short presentation on AFA's regional work, presented by AFA Secretary General Esther Penunia. They also visited Mr. Crispin Aguelo, former President of PAKISAMA and currently farmer representative to the Board of Directors of the Land Bank of the Philippines.
AFA KM Officer Jun Virola also joined the closing program on June 7. He congratulated FAO, PAKISAMA, and the participants for a successful study tour. He said that AFA believes  that farmers learn best from each other and it is important for farmer organizations to strengthen themselves and to work together. He added that AFA looks forward to cooperating more with FOs in Bangladesh and wished everyone a safe journey back to their homes.
---
---