AFA participates in a panel session during WEF-East Asia meeting in Myanmar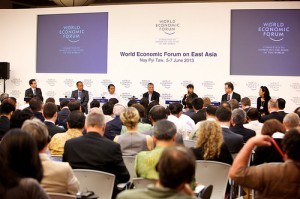 June 6, Nay Pwi Taw, Myanmar – The World Economic Forum (WEF) conducted its 22nd forum in East Asia last June 5-7 in Nay Pwi Taw, capital city of Myanmar, with the theme "Courageous Transformation for Inclusion and Integration". Around 900 participants from business sector, government and civil society attended the conference.
AFA Secretary General Ma. Estrella Penunia joined a parallel session held June 6, entitled "Building Food Security," as a panelist together with Rusman Heriawan, Vice Minister of Agriculture of Indonesia, U Ohn Than, Deputy Minister of Agriculture and Irrigation of Myanmar, Rajeev Vaidya, DuPont's President for South Asia and ASEAN, Franky Oesman Widjaja, Chairman and CEO of Sinar Mas Agribusiness & Food, Indonesia, and Debbie Taylor, co-founder of Proximity Designs in Myanmar. The session was moderated by Jamil Anderlini, Beijing Bureau Chief of Financial Times, and had as rapporteur Dang Kim Son , Director General of the Institute of Policy and Strategy for Agriculture and Rural Development (IPSARD) of Vietnam. The session was organized by the team from the New Vision for Agriculture, a WEF initiative led by 29 global companies.
In her intervention, Ms. Penunia said that partnerships in agriculture should empower small scale farmers at economic, political and social levels. Economically, farmers should have access and control over basic natural resources such as land, waters, forests, seeds and should have a fair share in risks and benefits of a business partnership. Politically, farmers should have a fair share in the decision-making processes, able to represent themselves in the governance structures of the business partnership and are able to negotiate with their partners. Socially, farmers should able to organize themselves into associations and cooperatives.
During this session, the urgency and importance of securing land rights for farmers and resolving land ownership conflicts in Myanmar as well as of giving farmers more access to credit were highlighted by the panelists, both from the government, FO and private sector. The government of Myanmar has just recently enacted two land laws in efforts to address the land issue. The farmers still needed to know and understand these laws to be able to claim their rights under the laws, or critique these laws, as needed.
The New Vision for Agriculture initiative is now being implemented in 11 countries, three of which are in Asia: Indonesia, Vietnam and India. The Partnership on Indonesia's Sustainable Growth (PISAgro) is between the government and 20 international and local companies, focusing on cocoa, corn, dairy products, palm oil, potato, rice and soy. The Public Private Task Force on Sustainable Agriculture in Vietnam is a partnership between 17 global companies, four local companies, two provincial governments, the national agricultural research institute, two international organizations and five NGOs, focusing on the value chains of fisheries, soy, corn, tea, coffee, fruits and vegetables. The partnership in the state of Maharashtra in India is between 21 global and local companies and the state government, and is focused on 12 projects.
During the trip, Ms. Penunia also met with the coordinators of two NGOs: U Kya Moo and Lucresia Naw Kyu Kyin of Myanmar Partnership for Development of Human Resources in Rural Areas (MyanDHRRA) and Dr. Ohnmar Khaing of the the Food Security Working Group (FSWG). MyanDHRRA is the country member of AsiaDHRRA, a strategic regional NGO partner of AFA. The FSWG is a 10-year old network of more than a hundred INGOs, local NGOs, community based groups and faith based organizations in Myanmar. Within the FSWG is a Land Core Group, and though formed only in 2011, had already produced some policy papers on land tenure and farmland laws
---
---