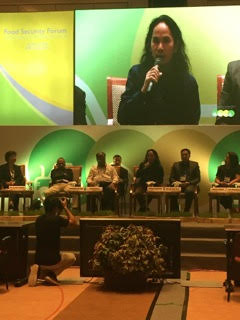 June 24, 2016. The ADB organized a Food Security Forum with the theme "Safe, Nutritious and Affordable Food for All" last June 23-24 in Manila, Philippines. AFA was represented by Mr. Jonjon Sarmiento and Mr. Soc Banzuela from PAKISAMA and AFA Secretary General Ms. Esther Penunia. The Forum was attended by around 300 participants all over Asia and Pacific.
During this Forum, AFA Secretary General was panelist during the opening session " Leaders' Roundtable : The Future of Food", where she stressed that a key to ending hunger and poverty  is to invest in farmers'  work on securing rights to natural resources, on promoting sustainable agriculture, fisheries and forestry and  on strengthening cooperatives through their farmers organizations.
A plenary session on "Voices from the Field", moderated by the AFA Secretary General, was also conducted. The session had as panelists  four farmers : Mr. Aynal Haque from Bangladesh ; Mr. Reynaldo San Jose  Mr. Jonjon Sarmiento and Mr. Bon Ian dela Roca from Soro-soro Ibaba Development Cooperative (SIDC), one of the biggest primary cooperatives in the Philippines. The panel also included Ms. Lourdes Panopio from JAMLA corporation, one of the major processors of cacao beans in the Philippines and Mr. Luck Wajananawat, President of the Bank for Agriculture and Cooperatives of Thailand. In his closing remarks, Mr. Jonjon Sarmiento called on the audience to "love your farmers and support them, because no farmer, no food."
The Forum was preceded by a Partnership Dialogue focused on identifying strategies to promote high level technology to end hunger. During this dialogue, AFA stressed that for technologies to be relevant, sustainable and easily adopted by small scale farmers, technologies should be affordable, environment-friendly, energy efficient,  manageable and controllable by farmers. To produce more food with better nutrition and with less destruction to the environment, AFA members' strategies have been to promote integrated, diversified, ecological, organic farming systems and multi-purpose farmers' cooperatives. Aside from AFA, other partners who gave presentations included the  multi lateral funding institutions (World Bank, IFAD, GAFSP); international research institutions (AVDRC, CIMMYT, CABI, ICARDA, IFPRI, CIP,IRRI,Murdoch University, WorldFish); development cooperations ( DFAT, Germany, JICA, GIZ, USAID); intergovernmental organizations ( FAO, WFP); and private sector (GRAINPRO, Inc , OLAM, Syngenta).