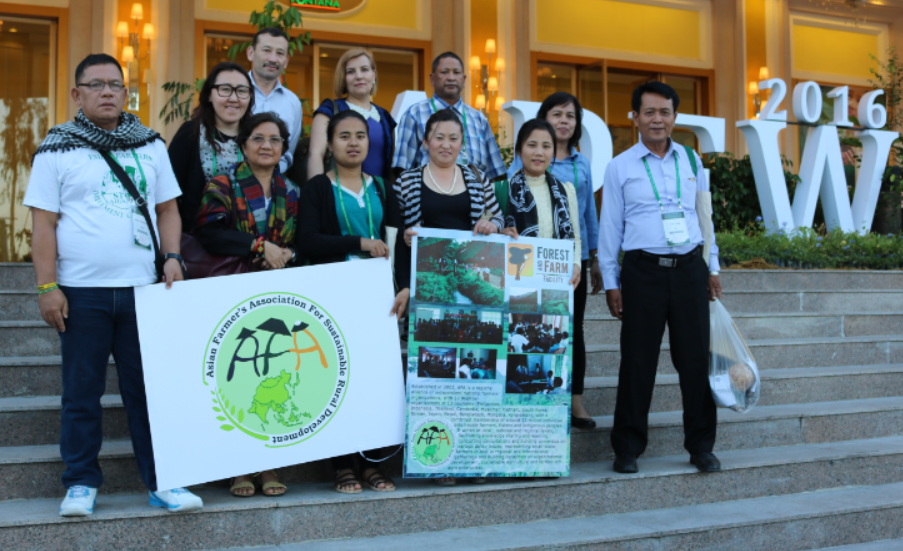 The Asian Farmers' Association for Sustainable Rural Development (AFA) participated in the just concluded 3rd Asia Pacific Forestry Week 2016, held last February 22-26 at Clark Freeport Zone, Philippines, coinciding with the 26th session of the Asia Pacific Forestry Commission of The Food and Agriculture Organization of the United Nations (FAO).
AFA joined a consortium composed of the Asian Indigenous Peoples Pact (AIPP) , Non Timber Forest Products Exchange Program-Asia (NTFP-Asia) in organizing a Knowledge and Exhibit Fair featuring products from forests and forested landscapes brought by consortium participants such as fruits and juices, tea leaves, honey, nuts, bamboo and rattan crafts; as well as three events. Two events were part of Stream 3 theme of Serving Society: People and Forests — Our Forests, Our Life: Community Based Sustainable Forest Management and Food Security (this event co-organized also with Rights and Resources Initiatives or RRI) and We Benefit from the Forest: Getting a Fair Share in the Benefits Derived from Forest Resources. Another event was part of Stream 4 theme of New Institutions New Governance — Our Rights, Our Forests: Tenure/Land Rights and Food Security, also co-organized with RRI. The consortium's activities were supported by the Forest and Farm Facility (FFF) of the FAO.
A consortium declaration highlighting the main analysis and recommendations of organizations of indigenous peoples, local forest based communities and enterprises and family farmers in forested landscapes were presented during the Way Forward Session of the Stream 3. Click here to download
AFA was represented by: Mr Eman Sulaeman and Nur Hady Slamet from Aliansi Petani Indonesia; Mr.  Tint Lwin and Ms. Tichia Pan of Agriculture and Farmer Federation of Myanmar; Ms. Dulmaa Togooch and Ms. Byambasetren Dorjsuren from National Association of Mongolian Agricultural Cooperatives; Mr. Alibek Tashtanov and Ms. Natalia Manchenco from Union of Water Users Associations of the Kyrgyz Republic ; Ms. Conchita Calzado and Edgar "Egay" Morondoz from PAKISAMA Philippines ; Mr. Lyam Bhandari Darjee and Rita Baramu from National Land Rights Forum Nepal; and Ms. Vicky Serrato, Mr. Jun Virola and Ms. Esther Penunia from the secretariat.
This is the first time that AFA became involved in the Asia Pacific Forestry Week.