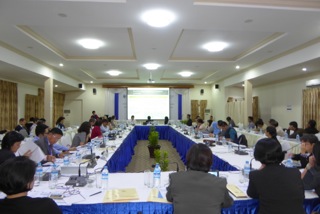 June 16, 2016. The OECD-FAO-ASEAN jointly organized a Regional Conference on Agricultural Policies to Enable Food Security, Agricultural Productivity and Improved Nutrition  last June 14-15 in Nay PwiTaw, Myanmar. It was attended by about 80 people from ASEAN governments, FAO and OECD secretariats, and CSOs. AFA was represented by Mr. Michael Kiyarlin of Agriculture and Farmer Federations of Myanmar (AFFM)  and AFA Secretary  General Esther Penunia. 
The conference examined 
the enabling environment for agricultural productivity growth, policies to build 
resilience to food insecurity risks. These themes are subject of an 
ongoing work of the OECD under OECD's ASEAN-wide project on "Building Food Security and Managing Risk: A Focus on Southeast Asia". The conference  also discussed how to  make nutrition-sensitive agriculture and food system policies that provide a more coherent approach to improving nutrition in the region. 
Eradicating hunger and improving food security and nutrition requires a multisectoral approach that begins with food and agriculture and includes complementary interventions in public health, rural development, education and social protection.
AFA gave a presentation on "Enabling Polices to Improve Food Security and Nutrition," highlighting the role of women farmers. The conference was a good opportunity to build and renew contacts with ASEAN agricultural officials, FAO staff on nutrition, and OECD policy researchers.
Click here for the AFA presentation
click  here for FAO presentation
Click here for OECD presentation
Click here for ASEAN presentation