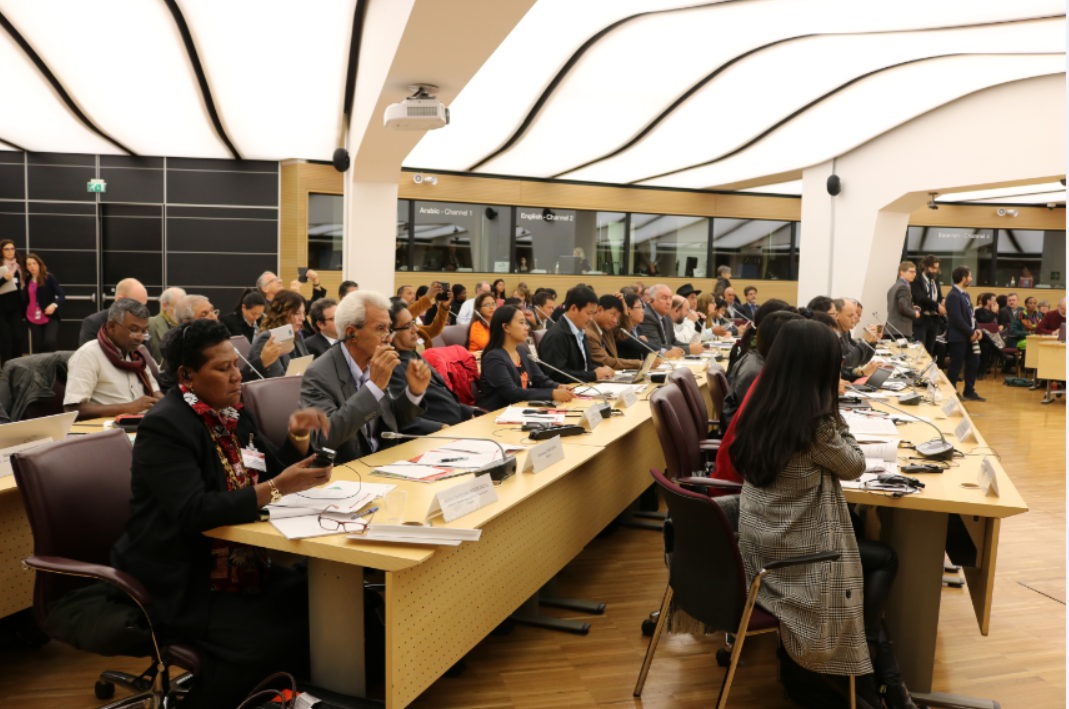 The Asian Farmers' Association for Sustainable Rural Development (AFA) participated in the just concluded 6th global farmers' forum held at the headquarters of the International Fund for Agricultural Development (IFAD) in Rome, Italy on February 15-16, coinciding with its tenth anniversary.
Farmer leaders, accompanied by technical staff, represented AFA as a regional farmer organization, as well as their own national farmer organizations. They include: Seu Rany of Farmer and Nature Net (FNN) in Cambodia; Altantuya Tsende-ish of National Association of Mongolian Agricultural Cooperatives (NAMAC); Ana Sibayan of Pambansang Kilusan ng Samahang Magsasaka (PAKISAMA) in the Philippines; Shimpei Murakami of AINOUKAI Japan and AFA (Chairperson); and Esther Penunia, Secretary General of AFA. Also attending as technical staff are FNN Executive Director Pan Sopheap and AFA Policy Advocacy Officer Lany Rebagay and KM Officer Jun Virola.
They also represented the Medium Term Cooperation Program Phase Two (MTCP2) together with delegates from participating national farmer organizations. They include: Badrum Alam of Bangladesh Krishok Federation (BKF); Smita Bhatnagar of Self Emploment Women Association (SEWA); Balram Banskota and Keshab Khadka of All Nepal Peasant Federation Association (ANPFa); Serenia Madigibuli of Tutu Rural Training Center (TRTC) in Fiji; Lily from China; and, Kannaiyan Subramaniam and Zainal Fuat of La Via Campesina – Southeast Asia.
The delegates joined those from other FOs in Africa, Latin America and Europe in the the main plenary and thematic working groups on February 15-16, the special session on pastoralism on February 12, the preparatory meetings on February 12-14, the bilateral meetings with IFAD Asia Pacific Director and Country Program Managers (CPM)/Country Program Offices (CPOs) and the KM event with SFOAP FOs in Africa on February 17, and the IYFF+10 and other side events and the presentation of the FAFO statement at the IFAD governing council on February 18. Click here for detailed agenda
AFA representatives participated as moderators and speakers in various sessions, organized side events and intervened from the floor. Esther Penunia highlighted the role of smallholder farmers in the region and the role of MTCP2 in improving policy engagement, service delivery and strengthening of FOs during the opening plenary. Altantuya Tsende-ish called on FAFO to include NAMAC in Mongolia in the process as well as in MTCP2. Shimpei Murakami shared his experiences as organic farmer in Japan and called on other FOs to seize the opportunity to mainstream agroecology. Ana Sibayan reported on the progress of the IYFF national council in the Philippines and the situation of rural youth. Seu Rany called on IFAD to provide low or zero interest loans to farmers.
A final statement was delivered to the IFAD Governing Council by Ujjaini Halim from of WFF on February 18. Click here for the statement
The Farmers' Forum, established in 2005, is an on-going, bottom-up process of consultation and dialogue between smallholder farmers' and rural producers' organizations from all over the world, IFAD and IFAD's Member States. The Forum is rooted in and aims to strengthen effective partnerships and collaborations between IFAD and Farmers' Organizations (FOs) in country programmes and investment projects as well as building their capacity and engaging in policy dialogue initiatives. The Forum meets every two years for global consultation, in conjunction with IFAD's Governing Council. Click here for more information on the 6th global farmers' forum
AFA has been participating in the event since 2006 and has been a member of the steering committee since 2008.
The next global Farmers Forum will be at 2020. In 2018, there will be five regional farmers' forum processes, including one in Asia Pacific.