In memoriam, Lee Kyung Hae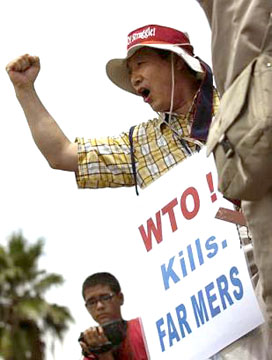 Lee's own story, from a statement he distributed in Geneva and later minutes before his death in Cancun
I am 56 years old, a farmer from South Korea who has strived to solve our problems with the great hope in the ways to organize farmers' unions. But I have mostly failed, as many other farm leaders elsewhere have failed.
Soon after the Uruguay Round Agreement was sealed, we Korean farmers realized that our destinies are no longer in our own hands. We cannot seem to do anything to stop the waves that have destroyed our communities where we have been settled for hundreds of years. To make myself brave, I have tried to find the real reason and the force behind those waves. And I reached the conclusion, here in front of the gates of the WTO. I am crying out my words to you, that have for so long boiled in my body:
I ask: For whom do you negotiate now?

For the people, or for yourselves?

Stop basing your WTO negotiations on flawed logic and mere diplomatic gestures.

Take agriculture out of the WTO system.

Since (massive importing) we small farmers have never been paid over our production costs.

What would be your emotional reaction if your salary dropped to a half without understanding the reasons?
Farmers who gave up early have gone to urban slums. Others who have tried to escape from the vicious cycle have met bankruptcy due to accumulated debts. For me, I couldn't do anything but just look around at the vacant houses, old and eroding. Once I went to a house where a farmer abandoned his life by drinking a toxic chemical because of his uncontrollable debts. I could do nothing but listen to the howling of his wife. If you were me, how would you feel?
Widely paved roads lead to large apartments, buildings, and factories in Korea. Those lands paved now were mostly rice paddies built by generations over thousands of years. They provided the daily food and materials in the past. Now the ecological and hydrological functions of paddies are even more crucial. Who will protect our rural vitality, community traditions, amenities, and environment?
I believe that farmers' situation in many other developing countries is similar. We have in common the problem of dumping, import surges, lack of government budgets, and too many people. Tariff protection would be the practical solution.
I have been so worried watching TV and hearing the news that starvation is prevalent in many Less Developed Countries, although the international price of grain is so cheap. Earning money through trade should not be their means of securing food. They need access to land and water. Charity? No! Let them work again!
My warning goes out to all citizens that human beings are in an endangered situation. That uncontrolled multinational corporations and a small number of big WTO Members are leading an undesirable globalization that is inhumane, environmentally degrading, farmer-killing, and undemocratic. It should be stopped immediately. Otherwise the false logic of neoliberalism will wipe out the diversity of global agriculture and be disastrous to all human beings.
(from http://www.countercurrents.org/glo-carlsen160903.htm)
---
The Inspiring Life of Farmer Leader Lee Kyung-hae
"Even after my body dies, my soul remains and sees what is going on. Don't worry about me. Fight to the last".
The Martyr Lee Kyung-hae was born in 1947 to ordinary farming parents in Jangsu, Jeonbuk-do Province. He went to Jeonju Agricultural High School and graduated from it in 1966. He continued to study at Seoul Agricultural College (the present Seoul Municipal University), from which he graduated in 1974. He threw himself into farming, neglecting the worries and prejudices of his acquaintances. At that time people did not easily comprehend how a college graduate could be engaged in farming, though the 'Saemaul Movement' (New Community Movement) and the '4-H Movement' were being actively developed throughout the country to improve the living standard of rural districts. The young Lee Kyung-hae still had the dream of becoming the owner of a decent-sized stock farm.
He established his own dairy farm on an area of 33,000m2 by reclaiming a hilly wasteland, and named it 'Seoul Farm'. However there were many problems and difficulties for him in settling into the farm life. The neighbors were still prejudiced and were not friendly. He made many trials and errors. Yet he did not give up and wanted to prove that he could run the farm successfully. Several years later he was able to keep more than 70 cows, which was a size of herd that could not be imagined easily in those days in Korea.
Apart from the dairy farm, he built farms for vegetables and medicinal herbs, for which he used a special cultivation method: controlling the growth rate of crops. He set up a 15-year plan for his farms and conducted serious research on advanced agriculture. And the farms became exemplary ones for agricultural college students and those dreaming of becoming farmers. Mr. Lee opened the farms for them to view and do agricultural practice in.
In achieving these things his wife was very helpful. His wife, Mrs. Kim Baek-i (Korean women keep their maiden names even after marriage), was working for a monthly magazine called 'Mountains' when she met him for the first time. They fell in love, married and planned together to get involved in farming.
It was in 1979 that Mr. Lee Kyung-hae became seriously interested in farmers' organizations and their activities. That year he was elected vice-president of the 'Jangsu Livestock Breeders Association', being highly regarded for his academic background and successful farm management. Since then his involvement in farmers' movements deepened and broadened. In 1983 he became president of the 'Jangsu Young Farmers Association, and was then elected president of a much bigger organization, the 'Jeonbuk Young Farmers Association' in 1987. During this period there were drastic falls in cattle and crop prices in this country. Having realized the necessity of having a nationwide farmers' organization to take efficient countermeasures against these problems, he stood at the forefront in establishing the 'Korean Young Farmers Association'.
Now he became a very important figure in the farmers' movements. In 1989 he became the 2nd president of the 'Korean Advanced Farmers Federation' and kept this position till 1991. During this period he led the organization in achieving practical benefits for domestic farmers. And in 1990 he started a special newspaper for them called 'The Korean Young Farmers' Weekly News' (presently 'The Korea Farmers & Fishermen's Weekly News'), with the aim of speaking out for farmers. About 50,000 young farmers were involved in the launching of the newspaper, investing in it as shareholders. His devotion to improving farmers' welfare was highly regarded by the FAO (The Food and Agricultural Organization) of the UN, and Lee was given the award for 'Farmer of the Year' in 1989.
In the 1980s Lee Kyung-hae's struggle for farmers' benefits took place within and through farmers' organizations. But in the 1990s he changed his strategy: he became a politician. He ran as candidate for the Jeonbuk Provincial Assembly and was elected three times. This was because he believed that politicians could exert direct influence in making favorable policies for farmers. Still, however, he was involved deeply in farmers' campaigns. He did not forget that he was a farmer himself and had to fight for himself and other farmers.
Lee has been always remembered as a farmer campaigner rather than a politician. In the year 1990 there was scheduled to take place 'The 2nd Nationwide Meeting of the Korean Young Farmers Association', which the government tried to stop. Protesting against this and claiming that the meeting should be allowed, Lee went on a hunger strike. In later years he went on more hunger strikes. Then in 1994, when Korean farmers were very worried about opening doors to foreign agricultural products, a policy being insisted on by WTO (World Trade Organization) negotiations, Lee made another one-man hunger strike for 17 days in front of the National Assembly Building, urging the government to make a special law against it. Many people were impressed by his courage and self-sacrifice.
However WTO pressure became stronger and stronger and the general situation of Korean farmers worsened. Many of them left their farms for the cities and some even committed suicide because of the burden of their debts. In December 2000 Lee Kyung-hae went on a really long hunger strike for 26 days, requesting the enactment of a law to solve the farmers' debt problem and also the return of the management of the Korean Horse Affairs Association to the Ministry of Agriculture and Forestry.
Usually people cannot manage without food for as much as a week, or even for a day. When they think of the hunger strikes conducted by the late Lee Kyung-hae, they are overcome with awe at his strong spirit and sacrifice for the sake of the farmers.
The late martyr's protest on behalf of farmers was not confined to Korea. In 1990, when the UR (Uruguay Round) negotiations were being conducted at the GATT (General Agreement on Tariffs and Trade) Headquarters in Geneva, Switzerland, he attempted suicide by disembowelment as a protest. And his one-man demonstration in that city in March 2004 attracted the attention of farmers in many countries. In front of the WTO headquarters he put up a tent and went on a month's hunger strike wearing a banner on which was written the phrase, "WTO Kills Farmers".
It was on the 10th of September 2003 that he committed suicide as a protest against the 5th WTO Ministerial Conference held in Cancun, Mexico. His death shocked the world and caused grief to many people. So why did he have to do that? We can find the answer in the letter he wrote to the Secretariat of the WTO in March 2002. In the letter he says that the WTO and so-called globalization contribute to depriving small farmers of the right to live and only benefit a few powerful countries and big multinational enterprises. And he asserts that the UR negotiations were swindles organized by some political groups and narrow-minded Neo-liberal scholars in powerful countries with the aim of transferring their problems onto other countries. He also points out that globalization is led by a few powerful countries, organized in concert with their puppet organizations, the WTO and the IMF (International Monetary Fund), and commercially motivated lobbyists from the huge multinational enterprises. With regard to this he claims vehemently that agriculture must be excluded from the WTO negotiations. If not, he predicts that farmers in many countries will lose their basic reasons for living and consequently rural communities in such countries will be destroyed. In the letter he describes himself as a man who has striven to help solve the problems of Korean farmers but who has realized that his endeavors are not working.
For the 5th WTO Ministerial Conference he flew to Cancun at his own expense. And he made all the plans himself about how to protest against the conference. According to his fellow farmers who went with him, some people were apprehensive that he might attempt certain kinds of radical action again, considering what he had done in the past. On the day in question, there was a meeting for 'International Farmers' Action Day' being held in the central area of Cancun. About 10,000 farmers from 70 or so countries gathered at 11 a.m., and tried to approach the convention center, where the Ministerial Conference was being held, to protest against it. Mr. Lee was at the front of the rally and repeatedly shouted "WTO kills farmers!". The rally was blocked by a 2.5m barricade set up by the police. Lee attempted first to climb onto the barricade in order to put up a banner, but, instead he stabbed himself in the chest. He was taken to a hospital in the city. But, due to excessive bleeding, he finally died at 3:15 p.m. His dying cry was: "Don't worry about me. Fight to the last". His death was reported on TV in most countries around the world. And in his small notebook was found the words: "Even after my body dies, my soul remains and sees what is going on."
Four days after Lee's death there was good news from Cancun: the 5th WTO Ministerial Conference finished without coming to any conclusions. At the conference many things were supposed to be discussed concerning agriculture and also other fields. And the further discussions were to be passed on to the subsequent conference in Singapore. But even the schedule and agenda could not be fixed. Actually, from the beginning of the Cancun conference there were major differences of interest on the agenda between the developed countries and the developing ones. But many people believed that there was another important factor affecting the outcome of the conference: Lee Kyung-hae's sacrifice.
Lee's death caused chain reactions in many countries. Farmers and members of agricultural organizations in those countries stressed that agricultural products should be definitely excluded from the WTO negotiations and that each country should secure its stable supply of provisions and protect the benefits of its small-scale farmers. The situation was especially serious in Korea. That year the country had a very bad harvest, and many farmers became very anxious. On September 18, when Lee's body was brought back to Korea, ceremonies commemorating him were held in many places throughout the country. And in the ceremony held in Sangju, Gyeongbuk-do Province, a farmer in his thirties burned himself to death to express his anger against the government's reckless agricultural policies. A nationwide rally was arranged in Yeoido, Seoul, on November 19. At the rally about 70,000 farmers expressed their opinions very strongly against opening the door to foreign agricultural products. Forced by the farmers' increasing anger and their spirit of solidarity, the Korean National Assembly had to postpone the ratification of the Free Trade Agreements between Korea and Chile, which was due to take place at the ordinary session in September.
It is not an overstatement to say that the 56 years of Lee Kyung-hae's life encapsulated the twists and turns of the history of modern Korean agriculture. Before the 1980s he was a successful owner of several big farms. However the pressure from abroad to open up the Korean agricultural products markets, according to the UR agreements, and the WTO negotiations, etc., converted him into a farmers' rights activist, and finally brought about his death. Still many people remember him clearly shouting "WTO kills farmers" in Cancun. And they continue to be concerned that Lee's passionate fight for farmers' interests and his sacrifice should not be in vain. The 4 million Korean farmers are very determined to revere his wishes and fight against the open door policy for agricultural markets. They want to stop Korean agriculture from collapsing and revive the vitality of the country's rural districts. To achieve these ends they will adopt every measure at their disposal. Only when these ends have been achieved, will the Martyr Lee Kyung-hae finally be able to rest peacefully in Heaven.
Farming is the foundation of our lives and the countryside is the homeland of all human beings.
---
More About Lee Kyung Hae's Legacy

The Meaning of Cancun
by Walden Bello
Why did the World Trade Organization talks in Cancun collapse? why were all those people out on the streets? Walden Bello, a central figure in resistence to the WTO, says a new constellation of power has emerged.
Mr. Lee Kyung Hae
September 23, 2003 | Luis Hernández Navarro

Translated from Spanish by Gisela Sanchez, Paulina Novo, Ana Mateos and Peter Rosset (Food First).
Before Lee Kyung Hae set out to meet his death in Cancún, he visited his wife's grave and mowed his lawn. On September 9th, along with his Korean companions, he carried a symbolic coffin of the World Trade Organization (WTO) along the streets of the "viper's nest" [what the name "Cancún" means in the Mayan language], while delivering his political will and testament. The following day — Chusok day (the date that commemorates the dead in Korea) — he climbed the police barricade which separated the multitude from the palatial meeting place of the WTO, addressed the crowd, and plunged a small Swiss Army knife into his chest. He was wearing a sign that said: "The WTO Kills Farmers."
---
---