In the News: Indonesia's Farmers are Internationally Certified to Produce Organic Coffee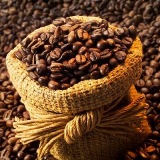 (Market information for Indonesian organic coffee. — Admin)
Indonesian Coffee is famous worldwide. Indonesia is currently the third largest producer of Coffee in the world following Brazil and Vietnam. The country also ranks fourth among green coffee exporters on the global market.
According to International Coffee Organization, in 2008 Indonesia produced 561,000 tones of green coffee accounting for approximately 9% of global output. Production is decreasing because of the slowing international demand. Indonesia's domestic Coffee consumption reaches around 190,000 metric tons annually.
The planted area for Coffee is decreasing, especially in the Robusta growing regions. This is reportedly due to lower Coffee prices. Farmers are apparently shifting from Coffee to cocoa trees, which require less maintenance and have generally provided higher, more stable prices over the past five years. It's been noted that more and more farmers in the Lampung area – traditionally a major Coffee production area – are converting from Coffee to cocoa production.
---
---