KLMPE 2017 moves towards inclusive rural transformation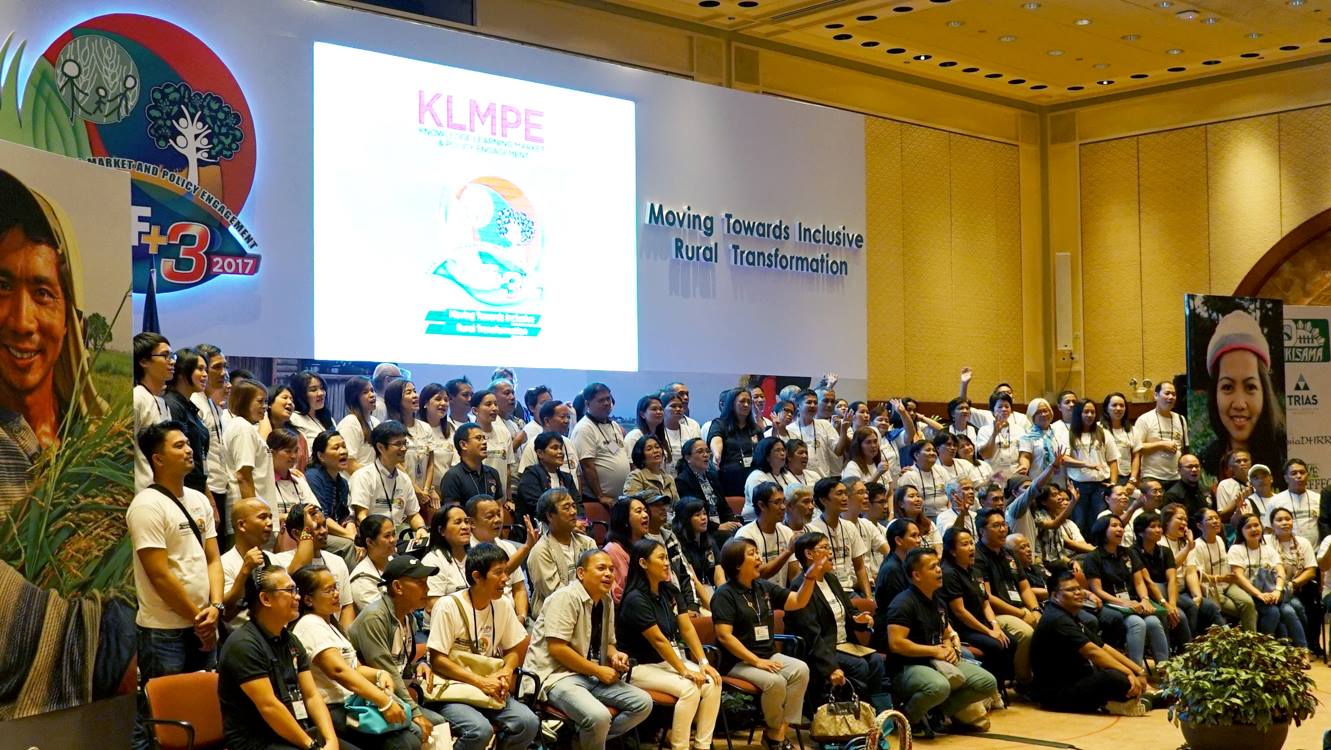 The Knowledge Learning Market and Policy Engagement (KLMPE) 2017 with the theme "Moving Towards Inclusive Rural Transformation" has opened at the Asian Development Bank in Mandaluyong City on 27 November 2017.
Around 250 Filipino farmers and fisher's organizations, Philippine government, civil society organizations, development partners and farmer an fisher's organizations from ASEAN member countries gathered for the two-day KLMPE 2017 to celebrate the fourth year of the International Year of Family Farming (IYFF) through a Knowledge Learning Market and Policy Engagement.
This year the following cases have been presented:
The Chokolate de San Isidro Social Enterprise
The Sweet Story of SAPANG MPC
Making Cooperatives More Responsive to Farmers: The PFFAFFCF Model
The Kalahan Reserve
Co-Management of the Ambao Fish Sanctuary
Coconut Farmers Trust Fund: Coco Levy Assets to Benefit the Poor
ISLACO: Building Better Farms for the Future
GAP and LEISA Practice in Pineapple Industry
Family Farming Approach: A Good Farming Practice
Improving Lives through Partnerships: The Brgy Fabrica Experience
LinkSFarM: Discovering the Value of Shelled Peanuts
Enhancing Market Power: The NMFDC Model
Rural Women Farmers in Sitio Maledda
MYFS: Hand in Hand in Building Resilience
Gender Mainstreaming: The Experience of Tri-People Program on Food Sovereignty & Peacebuilding
For the first time, the event included participants from ASEAN members and Asian countries who also presented their cases/success stories. Read the regional cases here.
INDONESIA: Coastal Community Development Project (CCDP)
PHILIPPINES: FAO's Agricultural Strategies in the Philippines
PHILIPPINES: Impact Assessment of Irrigated Rice Production Enhancement Project (IRPEP)
In support to the decade-long campaign to promote family farming, the KLMPE is a venue for farmer and fisher organizations, the government, CSOs and development partners to share their success stories, good practices, initiatives and innovations, and discuss current issues, policies and programs that promote family farming and inclusive rural transformation. The IYFF+3-KLMPE aims to stimulate active policies for sustainable development of agricultural systems based on farming families, indigenous groups, cooperatives and fishing families.
The KLMPE is a multi-stakeholder platform managed by Agriculture and Rural Development Knowledge and Policy Platform (ARDKPP), a technical working group composed of representatives from the Department of Agriculture (DA), Department of Agrarian Reform (DAR), Bureau of Fisheries and Aquatic Resources (BFAR), International Fund for Agricultural Development (IFAD), Pambansang Kilusan ng mga Samahang Magsasaka (PAKISAMA), ASEAN Farmers' Organisations' Support Programme (AFOSP)-The Medium Term Cooperation Programme Phase II (MTCP2), Philippine Partnership for the Development of Human Resources in Rural Areas (PhilDHRRA), Asian Farmers' Association for Sustainable Rural Development (AFA), Asian Partnership for the Development of Human Resources in Rural Asia (AsiaDHRRA), Trias, and We Effect.
---