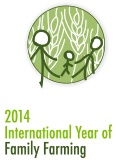 CIVIL society organizations (CSOs) will meet at the Partnership Center in Quezon City on Monday (April 1, 2014) to highlight the calendar of activities and set a jubilant mood leading to the global closing event of International Year of Family Farming (IYFF) in the Philippines.
In his opening statement at the 32nd Food and Agriculture Organization (FAO) Asia Pacific Regional Conference in Ulaanbaatar, Mongolia 10 to 14 March 2014, FAO Director General José Graziano da Silva announced that the global closing event of the IYFF 2014 will be held in the Philippines.
"This is in recognition of the lead role of Philippine government and CSOs in the IYFF campaign. We are happy with this confirmation," said Marlene Destreza Ramirez, secretary general of AsiaDHRRA. "We urge our Philippine and regional partners to make full use of the year and the closing event to drumbeat the issues of smallholders and smallscale food producers."
The Pambansang Kilusan ng mga Samahang Magsasaka (PAKISAMA) on behalf of the CSO organizing committee of IYFF in the Philippines — PAKISAMA, PhilDHRRA, AFA, AsiaDHRRA — is inviting CSOs who are working with the farmers to attend the consultation meeting to be able to gather a collective voice and coordinate actions from various sectors for the IYFF celebration.
Member countries of the United Nations and some CSOs around the world are going to send their representatives to the IYFF global closing event (Date to be determined after some discussions with the International Steering Committee). President Benigno Aquino III himself is expected to lead the celebration.
The Departments of Agriculture (DA) and Agrarian Reform (DAR) are co-convenors of the official national IYFF Committee. Last March 21, leaders from Pakisama, PhilDHRRA, AFA and AsiaDHRRA met with DA Secretary Proceso Alcala to discuss IYFF activities. Last March 24, the DAR had a "soft launch" on IYFF, and invited AFA Secretary General Esther Penunia, who is also FAO Special Ambassador for IYFF-Asia and the Pacific, to be one of its keynote speakers.
Representatives of both DA and DAR are also invited to attend the consultation meeting.
The Philippine government, at the 37th Session of the FAO Conference, proposed that the United Nations declare 2014 as the IYFF. At the 66th session of the General Assembly of the United Nations, 2014 was formally declared the IYFF. It highlights the decisive role of family farming in the sustainable production of 70% of the world's food and in the conservation of ecosystems and biodiversity.
###
PROPOSED PROGRAM
National CSO CONSULTATION ON IYFF Philippines
Ugnayan Hall, Partnership Center, 59 C Salvador St., Loyola Hts., Q.C.
1 April 2014, 1:00-6:00 PM
1:00-1:30 REGISTRATION
1:30-1:45 INTRODUCTION, OPENING REMARKS
1:45- 3:15 Panel Session: UPDATES ON IYFF
– IYFF in the world and Asia-Pacific (10 minutes)
– Philippine Government Initiatives, DAR at DA (20 minutes)
– Philippine CSO initiatives (20 minutes )
– Open Forum (40 minutes)
3:15-3:45 DISCUSSION AND CONSENSUS ON KEY ASKS/DEMANDS OF SMALL FARMERS, FISHERS,
INDIGENOUS PEOPLES, RURAL WOMEN, AND YOUTH – how IYFF can be meaningful and
make family farmers in Philippines happy this year and beyond
3:45-4:00 Health Break
4:00-4:30 DISCUSSION AND REVISION OF PROPOSED DRAFT DECLARATION
4:30-5:00 DISCUSSION AND AGREEMENTS ON COORDINATION OF PLANS OF ACTION OF
VARIOUS SECTORS AND EXPANSION OF REPRESENTATION TO JOINT CSO-Government-Inter Government
National Organizing Committee on IYFF
5:00-6:00 Panel Session: Grow Asia Campaign
– The GROW Asia campaign in ASEAN and the WEF East Asia Forum (speaker from DA)
– Open Forum
– Synthesis of Comments/Feedback and Action Points
SOURCE: PAKISAMA