Regional farmers' consultations tackle organic rice, global issues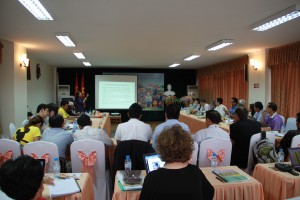 Organic rice industry has a lot of potential for small scale women and men farmers in Asia. However, there is the challenge of increasing production and being ready for the market. It is also affected by a host of issues such as land grabbing, food price volatility, and climate change. Farmers are also concerned with global opportunities and challenges such as the declaration of 2014 as International Year of Family Farming (IYFF), Rio+20 processes, and the Global Agriculture and Food Security Program (GAFSP).
To address these issues, the Asian Farmers' Association for Sustainable Rural Development (AFA), held regional consultations among its member farmer organizations in Hanoi, Vietnam last March 7-8. The consultations were hosted by the Viet Nam Farmers Union (VNFU), back to back with the 5th AFA General Assembly.
The consultation was attended by around 45 representatives from 12 farmer organizations from 10 Asian countries, such as API, FNN, VNFU, SORPORKOR, PAKISAMA, AINOUKAI, KAFF, WAFF, TWADA, TDFA, KKM, and NLRF, as well as from partners such as Agriterra, Agricord, AsiaDHRRA, WRF, Green Net, and WSPA.
AFA member FOs in Cambodia (FNN), Indonesia (API), Philippines (PAKISAMA), Thailand (SORKORPOR), and Nepal (NLRF) conducted national consultations on organic rice industry analysis from last year until early this year.
The results of the consultations were shared during the regional consultation in Hanoi and became the inputs to further analysis and recommendations for the organic rice industry at the regional level.
AFA also took notice of global issues being discussed such as the IYFF, Rio+20 and GAFSP. Discussions drew out the concerns and proposals of farmers on the said issues.
The results of the regional consultation served as inputs to the CSO meeting held on March 10-11 in preparation for the 31st FAO-Asia Pacific Regional Conference in Hanoi, Vietnam.
The full proceedings of the consultations will be uploaded once it is already available.
Click on the links to download the presentations:
Organic Rice Industry in Cambodia
Organic Rice Industry in Thailand
Organic Rice Industry in Philippines
Organic Rice Industry in Nepal
Organic Rice Industry in Indonesia
Linking the Organic Rice Chain Experiences
International Year of Family Farming
---
---