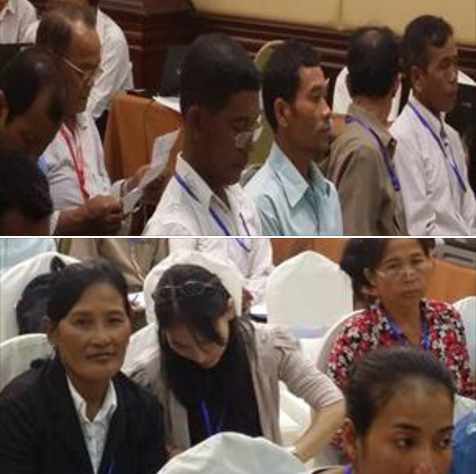 (Farmer and Nature Net (FNN) in Cambodia actively participates in the improvement of land management and the land law in the country by representing farmers interests' and giving inputs to consultations. FNN is a member of AFA and ILC through which it participates in efforts to protect and promote land rights and sustainable smallholder farming systems at regional and international levels.)
By Pan Sohpeap, FNN
Battambang City — The second regional consultation workshop on "Agriculture Land Law" has been held on July 12-13, 2016, at Khemara Battambang-1 hotel in Battambang province, which presided over by Mr. Uk Siphan, representative of General Department of Agriculture (GDA), Her Excellency Nhim Sokun, Deputy Governor of Battambang, Dr. Tek Vannara, Executive Director of NGO Forum, Mr. Sor Sontheary, representative of Star Kampuchea, and farmer organization. The workshop organized by the GDA/MAFF, which sponsored by NGO Forums, Caritas Cambodia, and Star Kampuchea, where around 135 participants attended.
As part of its strategic network development, six FNN's representatives, whom include Ms. Khuon Sey, FNN's vice president, Ms. Bun Eng, FNN provincial network leader of Banteay Meanchey, Mr. Chak Thoeun, FNN provincial network leader of Kampong Chhnang, and Mr. Meach Saru, representative of FNN Kampong Cham provincial network, Mr. Pan Sopheap, FNN Executive Director, and Ms. Kong Sokchhoin, FNN Project Coordinator, attending the workshop. The main objectives of the workshop are to (1) enhance meaningful participation of civil society organizations and farming communities with qualified inputs in constructive dialogues for the improvement of the draft legislation on the agricultural land management and (2) collect inputs from stakeholders for improving the draft Law on Agricultural Land.
It is important to be noted that the first regional consultation workshop, known as workshop for coastal areas, was held in Preah Sihanouk province in March, 2016, the second workshop known as low land areas or Tonle Sap area– on going now – and the third workshop – known as high land areas – will be held in Kratie province on July 18-19, 2016.