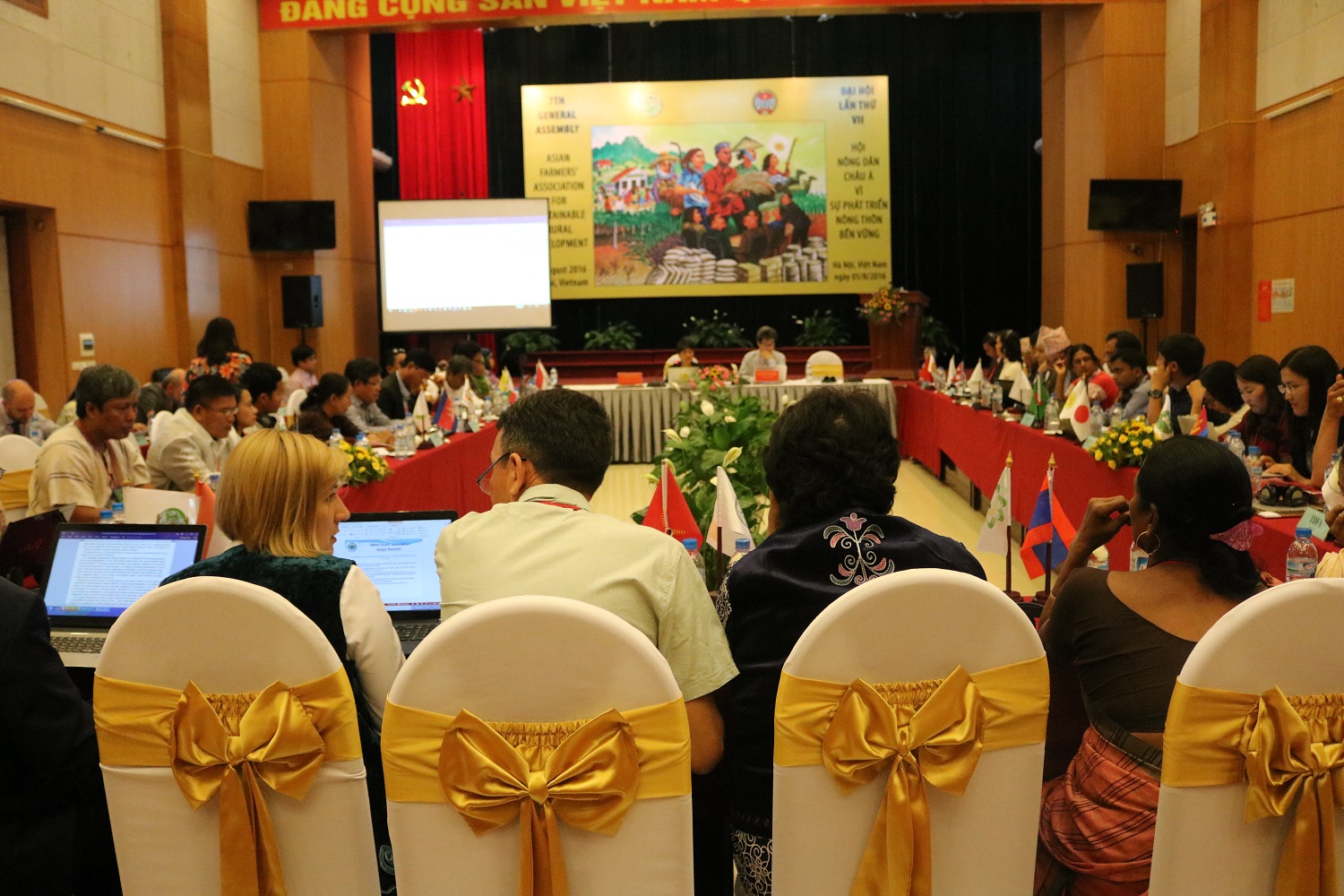 [7th AFA GA, Hanoi, Vietnam, 5 August 2016 (c) AFA 2016]
AFA has approved a new strategic plan for 2016-2020 during its 7th general assembly held last August 5 in Hanoi, Vietnam. It includes a definition of AFA's nature and a revision of its vision and mission statement and peasant agenda. The strategic plan was based on an assessment of the strategic plan for 2011-2016, the workshop held by members last December in Bangkok, and a survey among members.
The membership defined AFA's nature as "an Asian alliance of national farmer organizations composed of small scale women and men family farmers, fishers, indigenous peoples, forest dwellers, herders and pastoralists." It revised its vision as "just, free, peaceful, healthy, economically viable, sustainable and resilient communities in Asia." It reformulated its mission as "to build solidarity, raise our collective voice, and empower our members as key drivers and actors for sustainable rural development".
Likewise, it also revised its goal as "to strengthen capacities of national farmers' organizations leading to eradication of poverty and hunger, increased resilience, and sense of well-being of family farmers in Asia."
To focus AFA's work in the next five years, the membership also set five priority agenda as follows:
-Promote secured tenurial rights of small scale women and men family farmers over natural resources: lands, waters, forests and seeds
-Produce diverse and nutritious food through sustainable and resilient farming system and practices in farms and forested landscapes
-Build and strengthen farmers' cooperatives and their enterprises that will give farmers stronger involvement in value chains and increase their market power
-Promote fair treatment and ensure equitable rights and opportunities among women and men farmers
-Promote agriculture towards the young farmers and build their interests and capacities towards sustainable and resilient farming and related enterprises
AFA will pursue five programs such as capacity building, knowledge management, policy advocacy, resource mobilization/sustainability measures and dynamic governance.
New Execom officers elected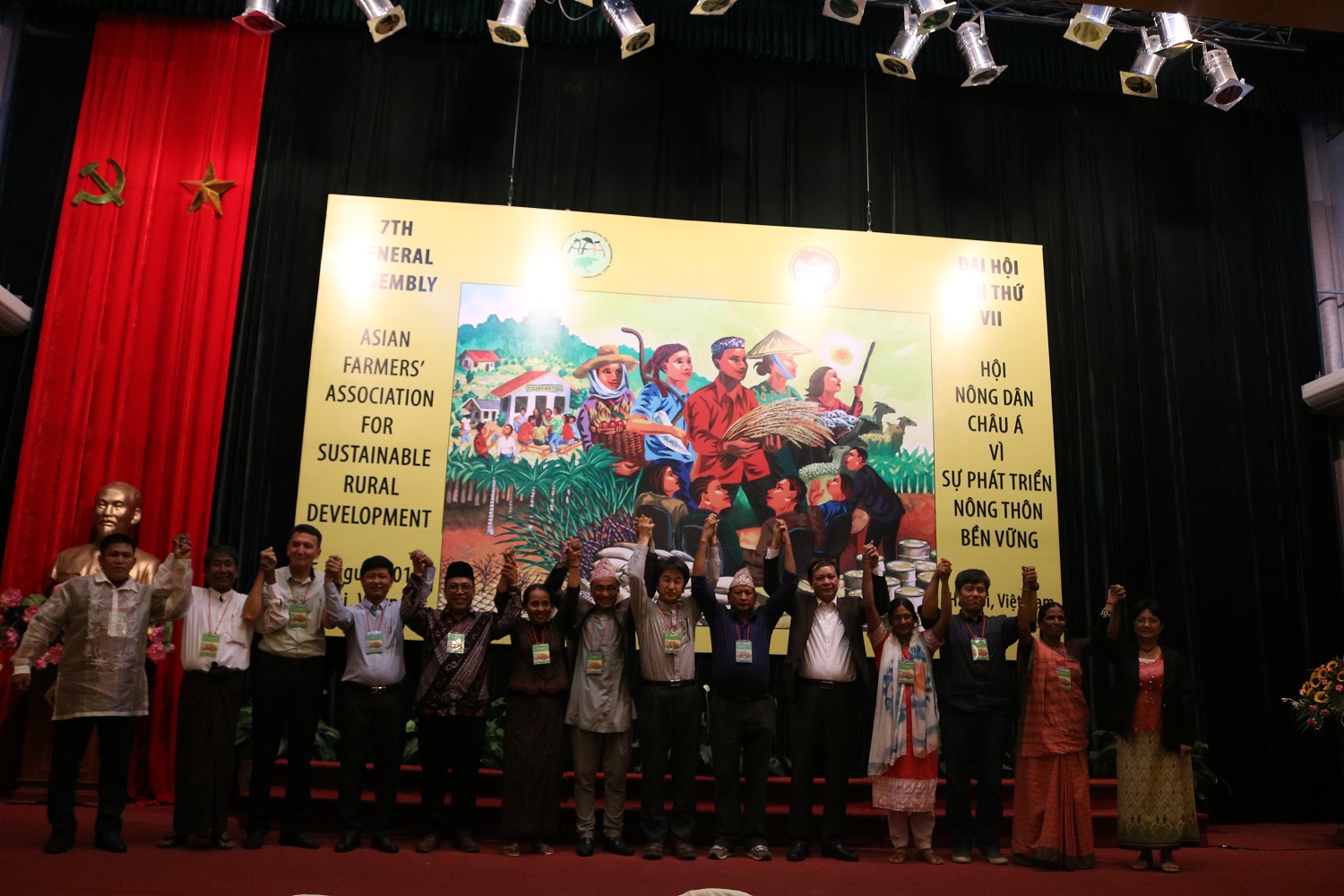 [7th AFA GA, Hanoi, Vietnam, 5 August 2016 (c) AFA 2016]
The members also announced their official representatives to the Executive Committee of AFA and elected a new set of officers, led by Lyam Darji of NLRF Nepal as Chairperson, Shazada Begun of KKM Bangladesh as Vice Chairperson, and Leu Vu Dieu of VNFU Vietnam as Treasurer. They re-appointed Esther Penunia as Secretary General.
The rest of the Execom representatives were presented to the general assembly as follows:
-AFFM, Myanmar – Mr. U Than Swe, President
-API, Indonesia – Mr. Muhamad Nuruddin, Secretary General
-FNN, Cambodia – Mr. Seu Rany, President
-FWN, Cambodia – Mrs. Roeurn, President
-PAKISAMA, Philippines – Mr. Ireneo Cerilla, President
-LFN, Laos – Mr. Somboun Saybouakeo, President
-UWUA, Kyrgyztan – Mr. Kanybek Jumaev, President
-NADF, Tajikista – Mr. Sharipov Azizbek Fattoevich, President
-SEWA, India – For confirmation
-TWADA, Taiwan – Mr. Hsieh-Liang Tsai – Young farmer
-TDFA, Taiwan – Mr. Yen-Liang Huang, Vice-President
-NAMAC , Mongolia – Ms. Altantuya Tseden-Ish, Vice-President
-AINOUKAI, Japan – Mr. Shimpei Murakami, Chairperson
-KKM, Bangladesh – Ms. MST Shazada Begum, President
-CTCF, Nepal – Mr. Rabin Rai, Elected Gen Sec (Farmer)
-NLRF, Nepal – Mr. Lyam Bahadur Darjee, President
-VNFU, Vietnam – Mr. Leu Vu Dieu, 1st Vice-Chairperson
The 7th AFA GA was hosted by VNFU and was attended by 42 representatives (28 men and 14 women, 7 of whom are youth) from 17 farmer organizations from 14 countries as follows: Aliansi Petani Indonesia, Pambansang Kilusang ng Samahang Magsasaka (PAKISAMA) in the Philippines, Farmer and Nature Net (FNN) and Farmer and Water Net (FWN) in Cambodia, Lao Farmer Network (LFN), Agriculture and Farmer Federation of Myanmar (AFFM), Viet Nam Farmer Union (VNFU), National Land Rights forum (NLRF), Central Tea Cooperative Federation (CTCF) in Nepal, Kendrio Krishok Moitree (KKM) in Bangladesh, National Association of Mongolian Agricultural Cooperatives (NAMAC), Union of Water Users Association (UWUA), Taiwan Dairy Farmers' Association (TDFA), Taiwan Wax Apple Association (TWADA), AINOUKAI in Japan, National Association of Dehkan Farms (NADF) in Tajikista and Self Employed Women's Association (SEWA) in India.
New regular members confirmed, certificates of membership awarded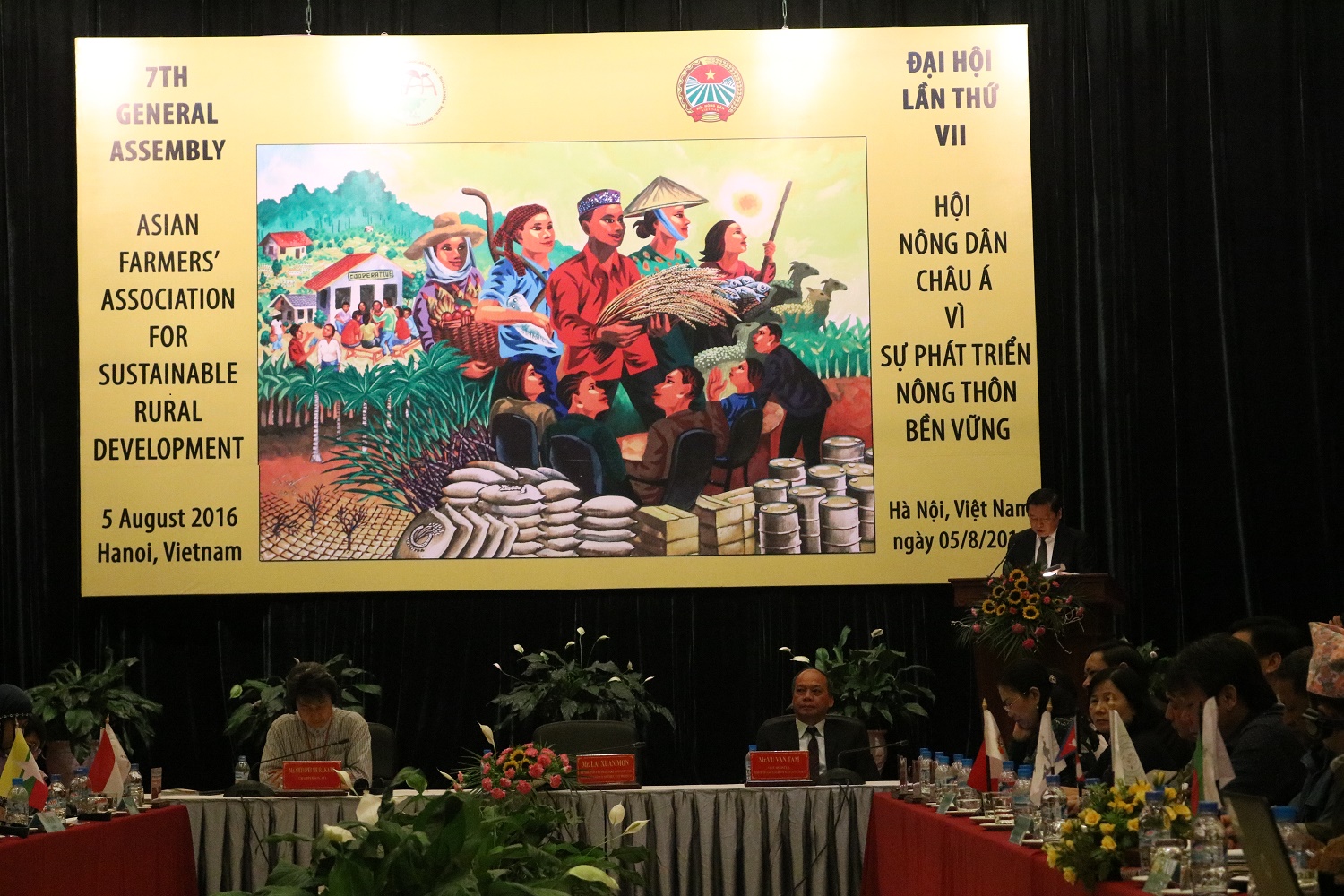 [7th AFA GA, Hanoi, Vietnam, 5 August 2016 (c) AFA 2016]
Four regular members were confirmed during the general assembly. They were LFN from Laos, SEWA from India, NADF from Tajikistan, and VNFU from Vietnam. LFN, SEWA and NADF applied for regular membership just before the general assembly, while VNFU has been a founding member of AFA, but being officially a regular member had to go through a long process within the organization. The representatives of each organization gave acceptance speeches during opening ceremony. Certificates of membership were also awarded to each AFA member
VNFU memorial medals awarded, solidarity dinner held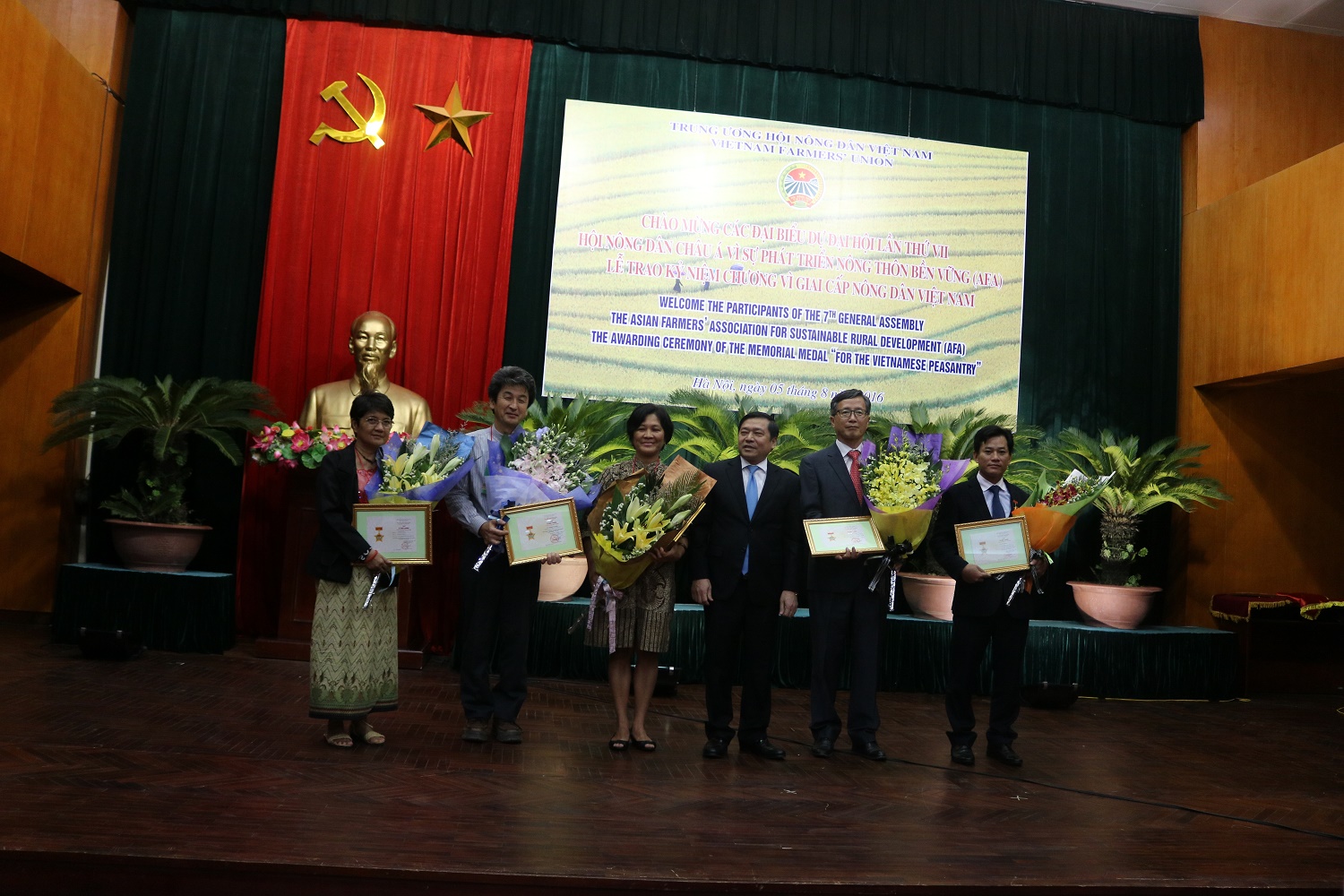 [7th AFA GA, Hanoi, Vietnam, 5 August 2016 (c) AFA 2016]
After the business meeting of the general assembly, VNFU received AFA delegates in the evening for the Awarding of Memorial Medal for Vietnamese Peasantry. The chairperson of VNFU gave the memorial medals to five individuals, including the AFA Chairperson, the AFA Secretary General and the AsiaDHRRA Secretary General. It was followed by a solidarity dinner also hosted by VNFU where delegates enjoyed a traditional musical performance. Representatives from partner organizations also gave solidarity messages to AFA, namely, Peter Prins from the Netherlands Water Partnership, Harm Haverkort from Agriterra, Marek Poznanski from Collectif Strategies Alimentaires (CSA), and Daniel Ruiz de Garibay the World Rural Forum (WRF).
Knowledge sharing and consultation workshops
Several other events were held during the week of the general assembly, including:
-Knowledge Exchange Forum on FO Engagement in Public Investment Programs (August 1-2), organized by AFA, VNFU, AsiaDHRRA and CSA
-34th AFA Execom Meeting (August 3), organized by AFA and VNFU
-Field Visit to Tuyen Quang (August 4), organized by AFA, VNFU, AsiaDHRRA and CSA
-Regional Consultation on Seeds in South and South East Asia August 6), organized by AFA, VNU and AsiaDHRRA
-Regional Knowledge Sharing and Learning Session on Networking and Coordination among Partners of Forest and Farm Producer Organizations (August 7), organized by AFA and VNFU
Results will be posted on the AFA website once finalized.