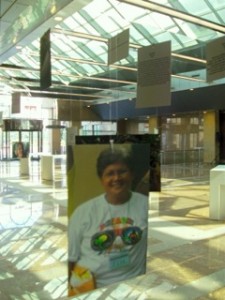 The Association  for Women's Rights in Development (AWID) ,  an international membership organisation that works to strengthen the voice, impact and influence of women's rights advocates, organizations and movements internationally to effectively advance the rights of women, paid a tribute to the lives and work of feminists and women human rights defenders and activists last April during a conference in Istanbul, Turkey.
Florita "Nang Flor" Caya, was one of the women who were given tribute.
The efforts to include her in this list was made by Sabine Pallas, our friend from the International Land Coalition (ILC). We are thankful to her for the work she had done on this.
This is for Nang Flor, and for the other women leaders who have died in the struggle.  And this is for ourselves too, so that we may continue to be inspired by their bravery in the pursuit of their human rights.   It was timely as it was done when PAKISAMA was commemorating the first year of Nang Flor's death. Sadly, the killers are still on the loose, and this has reminded us to follow-up the investigation that was started by the Commision on Human Rights.