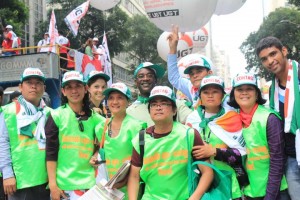 RIO DE JANEIRO, Brazil – Dambar Praja is a 40-year woman organic farmer from Nepal. She grows maize, millet, beans, sunflower, and other crops on her 0.5 hectares of land in Darechok, Chitwan.
Hiromitsu Iio is a 36-year old male organic farmer from Japan. He grows chrysanthemum, beans, potato, and onion in an 8-hectare land that he rents in Takinoue, Hokkaido. He also runs an organic restaurant in Aichi and a small company producing organic insect repellent.
Jonjon Sarmiento is a 40-year old male organic farmer in the Philippines. He grows rice and vegetables, and raises livestock in his .44-hectare diversified farm in Victoria, Oriental Mindoro. He also maintains a seed bank of 70 traditional varieties of rice and runs a small training center for sustainable agriculture in his farm.
Uon Sophal is a 60-year old male organic farmer from Cambodia. He grows rice, chicken, vegetables, and fish in his 7-hectare farm in Khacheay Khanglech village in Damnak Sokrom commune, Dangtung district, Kampot province. He practices the system of rice intensification or SRI. He is also the president of Farmer and Nature Net and the chairperson of the Asian Farmers' Association.
On June 20, 2012, the four farmers and their support staff joined others from Latin America, Europe, and Africa, as well as other civil society organizations, in a people's march in downtown Rio de Janeiro, Brazil, which is hosting the UN conference on Sustainable Development (UNCSD), also known as Rio+20.
Wearing green vests that say "Sustainable agroecology now!," the AFA delegates delivered their message about the kind of future that small scale farmers want.
More than 500 on-site side events were organized by Governments, Major Groups, Organizations from the UN system and other International Organizations in RioCentro during Prepcom III (13-15 June), the Sustainable Development Dialogue Days (16-19 June) and the Summit (20-22 June).
The AFA delegates joined some of the side events the sustainable development dialogue sessions either as panel speakers, co-organizers or participants, as well as the official summit itself as observers.