AFA calls for farmers' participation in irrigation projects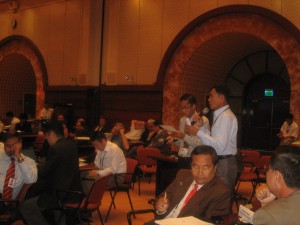 The Asian Farmers' Association for Sustainable Rural Development (AFA) called on the Asian Development Bank (ADB) to ensure the meaningful participation of small-scale farmers in designing, implementing, monitoring and evaluating irrigation projects.
AFA made the call during the Asian Irrigation Forum (AIF) held on 11-13 April 2012 at the ADB Headquarters in Manila, Philippines.
The Asian ADB organized the forum to "review the region's performance in irrigation and irrigated agriculture, explore the future of irrigation and drainage in rural development, and identify needs and opportunities for strengthened partnerships to deliver more productive irrigation services throughout the region."
AFA was represented by Chairperson and FNN President Uon Sophal, FNN Staff Noy Kimhong, Sec General Esther Penunia, Policy Advocacy Officer Lany Rebagay, and Marketing Officer Vicky Serrato.
AFA delivered the following messages during the forum:
-Small-scale women, men and young farmers recognize the importance of irrigation in improving productivity and ensuring food security.
-Government should invest in community-based irrigation system, small to medium irrigation scheme, reservoirs and support water-saving farming technology like SRI and other infrastructure that will support efficient use of water e.g. rainwater harvesting storage facilities, repair of irrigation system.
-Ensure meaningful participation of small-scale farmers in designing, implementing, monitoring and evaluating irrigation projects.
-Alongside improvement of irrigation systems, government should make coherent policies that would ensure productivity and food security through appropriate and sustainable policies on land use, granting of rights/access and control of small farmers to productive resources like land, water, seeds including access to markets.
-Expand private-public partnership to include small-scale farmers, CSO, private and public partnership in the principle of social and solidarity economy.
CSOs attending the forum also emphasized the importance of "land tenure to encourage investments, the need to institutionalize participation of CSOs/farmers and inclusion from the beginning and not just in implementation, insufficient water supplies, the need to have access to technology and be 'trained', and concerns about 'privatizing' irrigation, and the need to make farming profitable."
The CSOs expressed hoped that these messages will be taken into account as the organizers prepare the forum synthesis and recommendations which will help shape ADB's agenda on irrigation and drainage for the next 10-15 years.
Click here for more information on the Asian Irrigation Forum
---
---