AFA participates in global conference on women in agriculture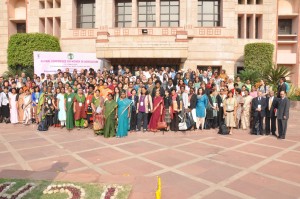 Today, there is a growing realization and commitment of the global community to achieve more sustainable and broad-based agricultural growth by addressing gender-related issues in agriculture through national, regional and global initiatives and partnerships.
The Road Map of the Global Conference on Agricultural Research and Development (GCARD) too has called for a radical reorientation of the agricultural research agenda to overcome the existing gaps and to face the emerging challenges of sustainable development and livelihood of resource-poor smallholder farmers, especially the women farmers. Urgent efforts are, therefore, needed to overcome the gender gap by empowering women in agriculture.
In view of this, the first Global Conference on Women in Agriculture (GCWA) was held last March 13-15, within the premises of the National Agricultural Science Complex (NASC) in New Delhi, India. The conference was organized by the Asia-Pacific Association of Agricultural Research Institutions (APAAARI) and Indian Council of Agricultural Research (ICAR), with the support of various regional and international institutions such as ADB, GFAR, WB, CGIAR, AusAid, Canada Fund, UKAid, among others.
During this conference, four plenary sessions on (1) Reforms in Empowering Women in Agriculture, (2) Institutional Changes for Capacity Building and Partnerships, (3) Strengthening Capacity Building and Partnerships and, and (4) Towards More Effective Joint Action were held. Six parallel sessions were likewise held: (1)Assessing Women Empowerment in Agriculture, (2) Agricultural Innovations for Reducing Drudgery, (3) Linking women to markets, (4) Role of women in household and food security, (5) access to assets, resources and knowledge, and (6) climate change related risks and uncertainties.
AFA Secretary General Esther Penunia was a panelist in the first parallel session together with six other speakers. Her presentation higlighted the initiatives of many AFA members in empowering their women farmer members. (Click here for the paper and click here for the powerpoint)
The synthesis report, made by the GCWA team and GCWA secretariat , and presented by  Ms. Uma Lele, said that evidence shows investment in women has huge benefits in terms of social, economic, productivity and nutritional/food security and other outcomes. Some evidence has pointed out that production and food availability does not necessarily lead to nutritional outcomes, and that increased education does not necessarily lead to increased voice in decision making, even at household levels. The Report highlighted though that we need more and contextual evidence.
Also, the Report identified five emerging priorities to drive change towards women's empowerment:
-make women's issues more visible
-generate evidence and knowledge to address women's issues in agriculture
-foster collective action and leadership of women and men
-promote women's ownership and control
-secure women's rights more broadly
Another output of this conference was the formal launching of the Gender in Agriculture Partnership (GAP). It was welcomed as a global initiative embracing all actors involved in gender and agriculture. Between now and the GCARD 2 (Global Conference on Agriculture and Rural Development, to be held in Paraguay this September 2012), the GAP and its priorities will be developed in a participatory process with individuals, institutions and investors. The next GCWA will be held in 2015, to be hosted by FARA (the regional agriculture research fora in Africa).
Click here for the synthesis report presentation.
For more information, visit www.gcwa.in
(Photo credit: www.gcwa.in)
---
---