Campaign against Golden Rice and other GMOs in the Philippines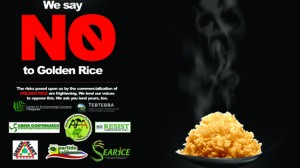 The Asian Farmers' Association for Sustainable Rural Development (AFA) joins the South East Asia Regional Initiatives for Community Empowerment (SEARICE) and other network partners in the campaign against the commercialization of Golden Rice, as well as other GMOs, in the Philippines.
In line with its desire to achieve rice self-sufficiency for the country, the Philippine government has declared 2013 as the National Year of Rice. While this may be good on the surface, it is quite alarming that part of the efforts to achieve rice self-sufficiency involves the commercialization of Golden Rice, a genetically modified rice variety that is said to be vitamin A-enriched.
In addition to concerns over risks to health, environment, biodiversity, and infringement of farmers' rights and livelihood, AFA believes that the best way to eliminate Vitamin-A deficiency is by eating a variety of nutritious foods that are usually found in diversified and integrated farming systems by smallholders, and which the government should support instead.
Thus, AFA joins hands with SEARICE and its network partners in issuing a call against Golden Rice commercialization by voicing objections, demanding a moratorium, and ultimately, halting its cultivation.
We ask friends and partners to uphold the right to safe food and the protection of farmers and the environment by supporting this campaign.
Click here to sign the petition at ipetitions.com 
Click here to sign the petition at change.org
---
---