Large-scale chemical farming worries Myanmar's organic vegetable farmers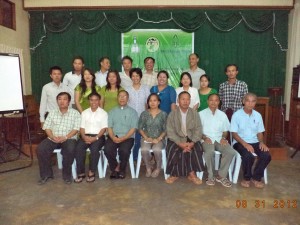 While demand for organic vegetables has been increasing in Myanmar, farmers are worried about the possible impact of foreign and private investors who are or will be engaging in large-scale vegetable farming using chemical and synthetic fertilizers, as these might contaminate nearby organic vegetable farms.
Farmers raised this concern during the "National Consultation Workshop on Organic Vegetable Industry" held last August 31, 2012 at the Catholic Bishop Conference of Myanmar in Yangon, Myanmar. The consultation was organized by the Asian Farmers' Association for Sustainable Rural Development (AFA) in partnership with the Episcopal Commission for Education of the Catholic Bishops' Conference of Myanmar and MyanDHRRA.
Around 29 participants from different stakeholders groups of the organic vegetable industry in Myanmar — such as organic farmer producers, marketers and support organizations, including representatives from NGOs and government agencies — attended the event.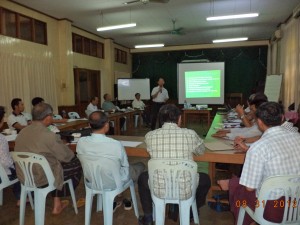 The consultation gave each player an opportunity to share initiatives and experiences, as well as discuss areas for collaboration to strengthen the organic vegetable industry.
They believe that organic farming benefits producers in terms of cost savings and food safety for their families and communities who are not exposed to harmful chemicals.
Participants shared that the demand for organic products is increasing, like in the case of organic vegetables, which are being sold directly to consumers at the local or community level.
In terms of farming technology, farmers are equipped with knowledge on soil fertility management, but they need more technical information on pest and disease management and organic vegetable seed production.
The organic vegetable farmers said that they have not been confronted with any land related issues since most of them owned their land.
Other issue like weather variability has impacted organic vegetable producers in terms of reduction in yield and low quality of produce.
The group agreed that the way forward is to continue advocating for the organic vegetable industry by promoting the benefits of organic products and influencing the government to support organic agriculture, specifically the organic vegetable industry.
One concrete step towards this is the creation of a website to promote organic vegetables and ensure continuous sharing and exchange of information online as a network of organic advocates.
---
---