South-South Cooperation Forum in South Asia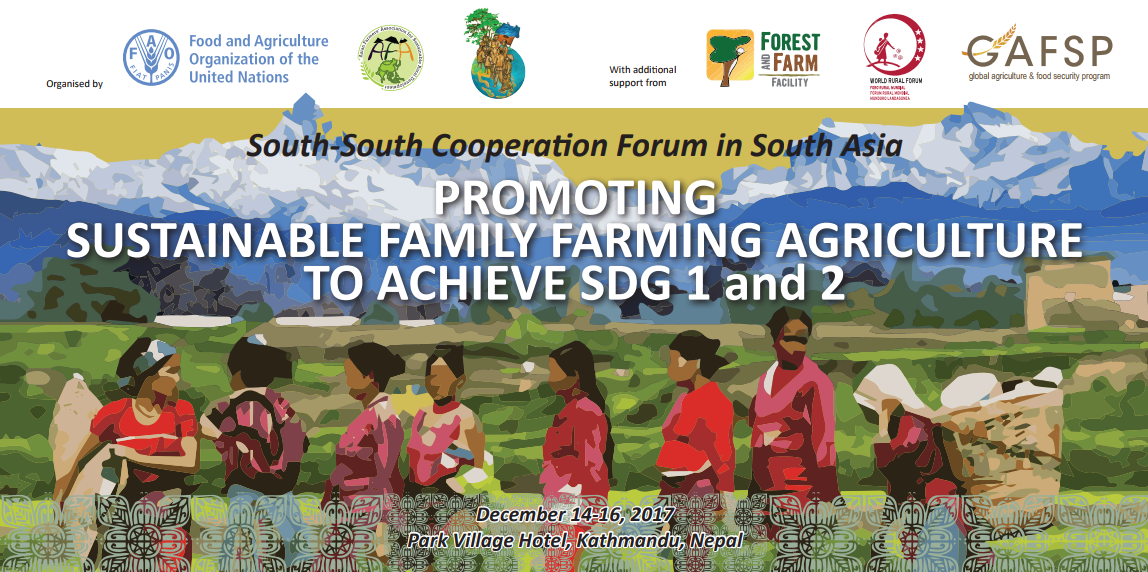 Promoting Sustainable Family Farming Agriculture to Achieve SDG 1 and 2
The South Asian region, covering the countries of Afghanistan, Bangladesh, Bhutan, India, Maldives, Nepal, Pakistan and Sri Lanka, comprises 3% of the world's area, 24% of the world's population, and 3.8% of the global economy, as of 2015.
It has been regarded as the most populous and most densely populated region in the world. [Note: amended data from UN Department of Economic and Social Affairs, 2014]
South Asia is still predominantly rural. About 67% of its population live in rural areas, the majority of whom make their living by depending on the natural resources that surround them—land, freshwater, coastal fisheries, forests. Much of the agriculture in South Asia is rain fed, so there is a fundamental dependence on rains that come seasonally. Much of the agricultural production in the region is undertaken by smallholders, on very small landholdings, by women, with a significant dependence on fisheries for protein in several countries, and dependence on livestock for draft power, manure, milk, and food security.
Women play a significant role in agriculture, including in the production of high–value crops such as vegetables; home garden cultivation; and in the raising of animals. For example, in India, the agriculture sector employs 4/5 of all economically active women in the country and 48% of self–employed farmers are women. In Sri Lanka, 41.5% of women work in agriculture; in Bhutan, the figure is 62%.6.
Crops grown in the region are important both for regional and global food security. The region grows 31% of the world's rice and 18% of its wheat. The pulses, millets, fruits, and vegetables grown contribute not only to food security, but to nutritional security as well.
Of the 1.2 billion people worldwide living in poverty, over 43 percent are found in South Asia. Of these, the vast majority live in rural areas.
The SAARC
The South Asian Association for Regional Cooperation (SAARC) is the regional intergovernmental organization of nations in South Asia. At the fist SAARC Summit in Dhaka in 1985, the South Asian Heads of State or Government adopted the Charter establishing the SAARC. SAARC Secretariat is based in Kathmandu, Nepal. Its first regional center, the SAARC Agricultural Center, is based in Dhaka, Bangladesh.
Considering the facts and importance, at the 18th SAARC Summit (Kathmandu 25 November 2014), the Heads of state or Government of the SAARC decided "to increase investment, promote research and development, facilitate technical cooperation and apply innovative, appropriate and reliable technologies in the agriculture sector for enhancing productivity to ensure food and nutritional security in the region. They also underscored the importance of promoting sustainable agriculture. The Leaders directed to eliminate the threshold criteria from the SAARC Food Bank Agreement so as to enable the Member States to avail food grains, during both emergency and normal time food difficulty. The Leaders urged for early ratification of the SAARC Seed Bank Agreement and directed to constitute the Seed Bank Board, pending completion of ratification by all Member States. The Leaders also directed the relevant SAARC bodies to finalize the establishment of Regional Vaccine Bank and Regional Livestock Gene Bank". At the Summit, the Leaders also "reiterated their strong commitment to free South Asia from poverty and directed the Ministerial and Secretary–level mechanisms on poverty alleviation to review the progress and revisit the SAARC Plan of Action and its effective implementation, also taking into account the Post–2015 Development Agenda" and "recognized the potential of cooperatives in achieving inclusive, broad–based and sustainable economic growth and development, and called for sharing of experiences, expertise and best practices in this sector."
CSO/FO Initiative
Farmers Organizations (FOS), working together under the platforms catalyzed by the project MTCP2 (Medium Term Cooperation Program Phase 2), supported by the International Fund for Agriculture Development (IFAD), Swiss Agency for Development and Cooperation (SDC) and European Union (EU), and managed by a consortium of Asian Farmers Association for Sustainable Rural Development (AFA), a regional organization with 20 member national farmers organizations in 16 Asian countries and La Via Campesina (LVC), an international peasant movement with 164 local and national organizations in 73 countries worldwide, with AFA as Grant Recipient, have initiated efforts to both respond to the issues of the farmers sector in South Asia, including on sustainable agriculture, fisheries and forestry. Through the MTCP2 project, national farmers organizations in Nepal, Bangladesh, India and Sri Lanka have engaged their national governments on policies related to land, water and forest rights and on sustainable
agriculture. Moreover, they are taking on-ground initiatives on clustering farmers' groups according to commodities, on promoting integrated, diversified, organic farming and sustainable forestry/agro forestry and on establishing community seed banks among their local/sub national groups.
AFA, on another initiative, has started initial dialogues with the SAARC Agriculture Center for possible cooperation of FOs with the SAARC Seed Bank Board and SAARC Seed Forum. One of the objectives of MTCP2 is to strengthen the capacities of farmers organizations to effectively engage their governments on pro–family farmer policies and programs. For the South Asia FO platforms, this meant a desire to engage better with SAARC. As of the present, there is no institutionalized mechanism for FO involvement in SAARC activities, and there are no effective dialogues nor forum that bring the FOs to discuss about agriculture, fisheries and forestry.
The Forest and Farm Facility has also taken the initiative, together with its partners from the civil society organizations (CSOs) and forest and farm producer organizations (FFPOs) in Nepal, to build the leadership and entrepreneurship capacities of the women leaders of FFPOs. It has conducted women leaders and entrepreneurs exchange visit and training in collaboration with Self Employed Women's Association (SEWA), an women's organization based in Gujarat, India. The exchange visit has also culminated into a national learning and sharing workshop aimed to share past learnings and to present initiatives taken by FFPOs in strengthening women's role and capacity in policy advocacy and business development.
OBJECTIVES
In general, this South–South Cooperation Forum aims to share and learn from experiences of various organizations (from government, FOs and international development partners) in promoting policies and programs on sustainable agriculture, fishery and forestry with emphasis on the strong involvement of women and youth.
Specific objectives will include:
Share concrete examples of initiatives, and from these initiatives, cull out challenges and lessons learned in (a) promoting sustainable agriculture, fisheries and forestry and (b) strengthening the role of women and youth in promoting sustainable agriculture, fisheries and forestry in their countries
Identify some key factors of success from the experiences shared
Outline some ways forward to continue multi-stakeholder process of dialogue and networking for the common pursuit of promoting sustainable agriculture, fisheries and forestry in their countries
CASE STUDIES
Youth in Agriculture in South Asia
Promoting Sustainable Forestry Promoting Sustainable Forestry /Agro Forestry
Promoting Integrated, Promoting Integrated, Diversified Family Farming Sustainable and integrated Agriculture and Fisheries in South Asia
GALLERY
READ TWEETS ON SSC
---